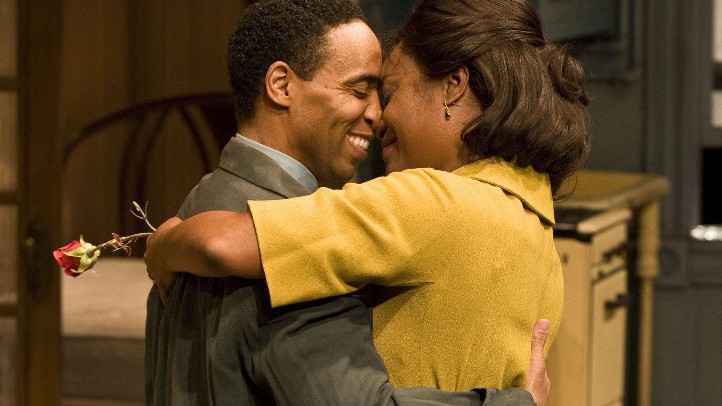 A play that answers a play -- or furthers its themes or considers lasting legacies it created -- is a rare and wonderful thing. You almost always want them presented in repertory, or at least one after the other, allowing them a chance to reach audiences twice.
We're fortunate that that is exactly what is happening now. The first play is "A Raisin in the Sun," Lorraine Hansberry's seminal 1959 portrait of an African-American family, a house at the center of many of their hearts, and what that house represents. The house is in Chicago's Clybourne Park, which lends its name to the title of the second play, a play that spans a half century and, in many ways, addresses the themes and promises of "A Raisin in the Sun." Bruce Norris wrote "Park" in 2010, just over 50 years after Ms. Hansberry penned "Raisin."
Clybourne Park -- cr: Craig Schwartz
So a double bill makes sense. But, of course, a double bill is always challenging in theater, making two venues a necessity and a blessing. "A Raisin in the Sun," which is directed by Phylicia Rashad, is at the Douglas through Feb. 17, and "Clybourne Park," which is directed by Pam MacKinnon, is at the Taper for a week after that. Meaning? See "Raisin" one week, and visit "Park" the next while the first tale is still twirling through your thoughts.
Many people have seen the film version of "A Raisin in the Sun" -- it starred Sidney Poitier and Ruby Dee -- but seeing the show on stage is just one of those essential parts of a theater lover's journey. Now's your chance. And "Clybourne Park" netted the Pulitzer a few years back, it should be noted.
Are there more important works that could inspire further examination several years on? Of course. Surely there are playwrights out there thinking of the next thoughtful pairing.
Follow NBCLA for the latest LA news, events and entertainment: Twitter: @NBCLA // Facebook: NBCLA
Copyright FREEL - NBC Local Media