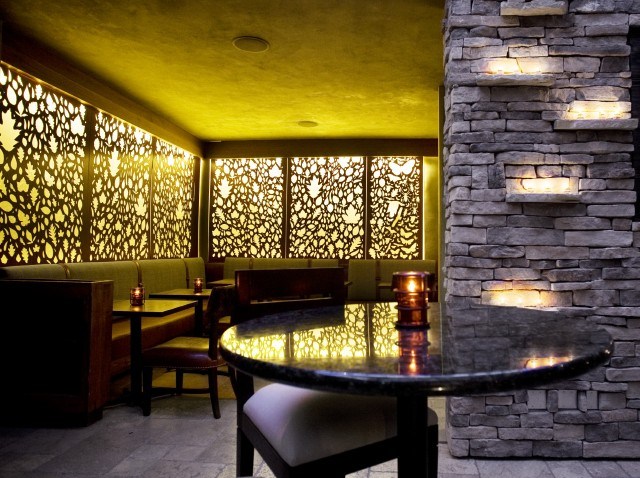 Los Angeles views. They're made for the movies -- they're in the movies -- and any time we see downtown in the distance, the ocean in the other distance, the Hollywood sign in another distance, well, lump/throat time.
So we're thankful we live in a metropolitan where restaurants and bars frequently capitalize on our capital sights. Rockwell in Los Feliz is the latest sip-and-soak-in-vistas spot to offer a 360-degree view of our glittery city, not to mention a get-cozy patio dominated by a 30-foot coral tree. In other words, take your pick: Vastness or get-closer-ness.
On the menu: flatbread pizzas, small plates, seasonal bites. Plus fancy beers, cocktails, and the Sazerac Vermont. Any take on the Sazerac we must support.
Rockwell is tucked behind Vermont, and it happens to be owned by Chris Diamond and Wayne Elias (they've got ties to Vermont as well). Vermont's chef Stephane Beaucamp had a hand in the menu creation, in fact.
And about that canoe. It's an antique, and it hangs over the bar. There are chandeliers, too, a huge staircase, leather-laden touches, areas wide open to the night. Mr. Elias says "the space is really unlike anything I've seen in Los Angeles."
The choice then: Savoring those views from Rockwell's top story, or finding a corner and taking in the restaurant's scene over that Sazerac.
Copyright FREEL - NBC Local Media