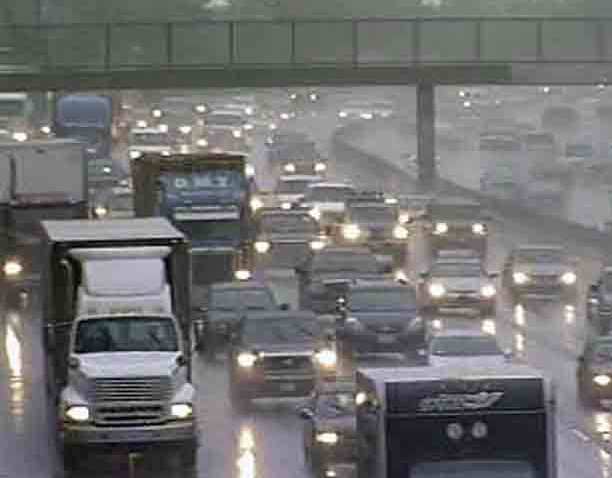 A rainstorm that swept through the Southland overnight caused flash flooding, power outages, traffic crashes, and evacuations in Yorba Linda, where hillsides scorched by the recent wildfire were at risk of mudslides.
No major injuries were reported, although in Boyle Heights, strong winds caused a palm tree to fall onto a house, leaving two women with minor injuries.
Heavy rainfall caused power outages throughout several parts of Los Angeles overnight, including areas near Los Angeles International Airport and Sun Valley.
Hundreds of traffic accidents that may have been caused by the weather were reported to the California Highway Patrol.
Yorba Linda residents already on edge from the recent wildfire and the threat of mudslides in burn areas got a third slight jolt this morning when a magnitude 3.0 earthquake rumbled through the area. The temblor struck at 11 a.m. and was centered five miles east-southeast of Yorba Linda and seven miles east-northeast of Villa Park, according to the U.S. Geological Survey.
There were no immediate reports of damage or injuries, but an Orange County Fire Authority helicopter took to the air as crews checked whether the quake caused any movement in the denuded soil that took a soaking in last night's rain.
A dispatcher at the Orange County Sheriff's operations center in Santiago Canyon said he did not feel the earthquake and no one called reporting damage. He said the center is close enough that it should have been felt there.
About the same time as the earthquake struck, a mandatory evacuation order that went into effect overnight in Box Canyon, Bush Canyon and along Antonio Road was downgraded to voluntary. But residents along Fairmount Road are still being kept away from their homes, said OCFA Battalion Chief Kris Concepcion.
No more homes have been damaged in the area, in part because city crews placed K-rail concrete barriers and sandbags so that muddy water was deflected into controlled streams and away from homes, McKeown said.
It was unclear how many of the 3,400 people living in the area actually left, said OCFA Capt. Greg McKeown.
About 76 people were at a shelter set up by the Red Cross, although many others probably went to stay with family or friends, he said.
As of 4 p.m., downtown Los Angeles had received 1.6 inches of rain, according to the Weather Service. Long Beach had 1.57 inches and Beverly Hills and Santa Monica each had .85 of an inch.
Rain totals were slightly higher in the valleys, where just over 2 inches was reported at Pacoima Dam, 1.52 inches in Burbank and 1.37 inches in Van Nuys.
Some of the highest totals were recorded in the mountains and foothills, where 3.06 inches fell at Opids Camp, 2.87 inches on Mount Wilson and 1.79 inches in Sandberg.
Even the deserts got rain, with .94 of an inch reported in Palmdale and Lancaster.
More showers -- heavy at times -- are possible Wednesday night, along with thunderstorms and small hail, according to the Weather Service.
The evening storm is expected to drop three-quarters of an inch to 2 inches across coastal and valley areas, and 1-3 inches in the foothills and mountains, with more than 3 inches possible in some areas, according to the Weather Service.