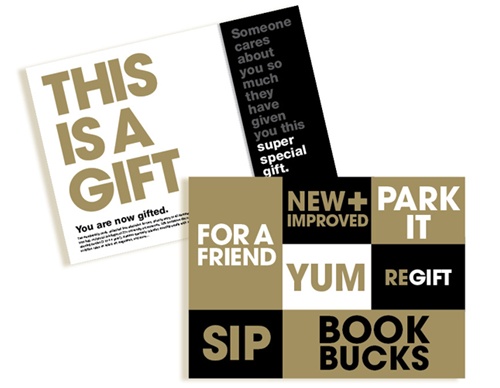 So few gifts ever announce, definitively, with confidence, that "THIS IS A GIFT."
And sometimes, you're just not sure, even though you might have, only moments before, opened the package. "Did they intend to give me this um, neon-hued shoulder-thingie-scarf?" You think, with guilt.
No guilt here. We're talking Hammer Museum memberships, we're talking an appealing and wicked-cool way to deliver the message, we're talking seeing exhibits and soaking up brain-food and discounts in the bookstore and, for a limited time, free parking and foodly yummies.
See what your $50 or $75 or $125 snags you. This is a gift, Hammer, you were SO right! No exaggerations on your part.
And do we laugh that you put the word "regift" front-and-center on the card? We do, we do. Clevah Hammer.