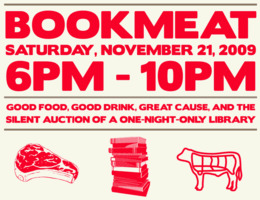 Bookmeat has a meaty and marvelous name, and a meaty and marvelous mission.
It's a party and auction with the aim of supporting Side Street Projects, a collective of artists doing a whole kaleidoscope of goodly things for the community.
The meat of the matter in a tasty nutshell: On Saturday, November 21st, book lovers and creative people and civic-minded souls will gather together to bid on books signed by artists. These aren't books that the artists have written; rather, they're books that have meant a lot to them.
This is brimming with so much wonderfulness we don't have enough cups to catch the run-over. You want a book. You want to bid. You want to get involved, and go to the party, and you can. Find out more here.