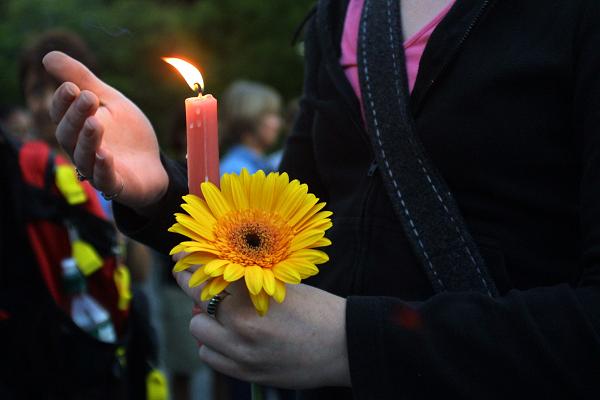 Where will you choose to reflect on Sept. 11, 2001, and the decade that has since passed? Many places around Southern California will be holding services and events that look back and look forward. Here are five of them.
LAFD Remembrance Ceremony: Gather at Frank Hotchkin Memorial Training Center on Sunday, Sept. 11 at 9 a.m. The fire department says that "all are warmly welcomed and invited to attend." You can read more about how the department has been preparing to look back, including one truly epic bike ride.
9/11 Candlelight Vigil, Walk & Remembrance Ceremony: The Long Beach walk will start at the bluff near Bixby Park and conclude at the World Trade Center on Ocean Boulevard. Speakers will talk at the close of the two-mile walk. Candles and flags welcome. Sunday, Sept. 11, 7 p.m.
Beverly Hills 9/11 Memorial Garden: The garden will officially open on Sunday, Sept. 11 at 4 p.m. Meet in front of the Beverly Hills Fire Department on Rexford Drive.
The Spirit of Los Angeles: Walk from the Farmers Market clocktower to the Grove's park with a group of firefighters and police officers (you'll pass "The Spirit of Los Angeles," that pretty sculpture in the middle of the Grove). A tree planting and gospel music will be part of the day. Sunday, Sept. 11, 1 p.m.
Tussauds Thank You: Madame Tussauds Hollywood is waiving admission on Sunday, Sept. 11 for those who serve in the military and as first responders. Just be sure to have your military or work ID (police, firefighter, EMS) to show at the door.
Copyright FREEL - NBC Local Media