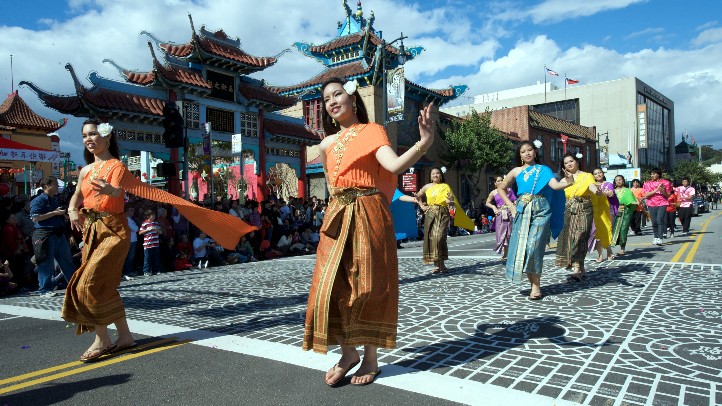 GOLDEN DRAGON PARADE: It's year 113 for the grand Chinese New Year parade. Dancers, firecrackers, and the famous lions are back, as are the lucky Lai See packets and colorful floats. The date is Saturday, Jan. 28 and the parade'll wend along Hill and Broadway. Bonus? Many, many activities and events will be happening around Chinatown all weekend; the New Year's festival will take place on Jan. 28 and 29.
---
Share Your Photos: If you're at the Chinese New Year parade, take a few photos and send them to us. We'll post them on nbcla.com. You can either email us pics at isee@nbcla.com or use our upload form here.
---
MUSEUMS FREE-FOR-ALL: A whole caboodle of art and cultural institutions have gathered together -- not literally, because, like, that would require cranes and stuff -- to open their doors and lock the admission box. Meaning? No-cash entry. Parking may cost at some spots, and some places on the list'll only be open one of the two days, but still. This is a solid deal. Saturday, Jan. 28 and Sunday, Jan. 29
PUBLIC STAR PARTY: A few crustier types (coughuscough) have been bemoaning our sunny, hot weather, but clear skies and mild nights mean a free January star party at Griffith Observatory is just the ticket. It's the first Public Star Party of 2012, amateur astronomers will be on hand to talk light years and such, and telescopes will be pointed at faraway things. ♥♥♥ u, universe. Saturday, Jan. 28
JEAN HARLOW PJ PARTY: Lest anyone think our city is all go-go-go, tomorrow-future-now, we are here to say we do possess an affection for our past. Those who are especially enamored of Hollywood's pre-code era -- when scripts brimmed with innuendo and envelope-pushing flirtations -- will be in their silky night things at the Silent Movie Theater on Saturday, Jan. 28. Jean Harlow's "Bombshell" will screen. Beauty marks and pin curls will be admired and discussed. Homina.
FOOD TRUCK FESTIVAL: Let's call Saturday, Jan. 28 "practice summer" and be done with it. The high'll be around 80 in Arcadia, over 50 food trucks'll bunch around the Santa Anita Park in-field, and people in tank tops and culottes'll be eating fried goodies off paper plates. The cold rain'll return, for sure, but for one day it can be faux August. Fauxgust? That works. Cost to get in is five bucks.
Follow NBCLA for the latest LA news, events and entertainment: Twitter: @NBCLA // Facebook: NBCLA
Copyright FREEL - NBC Local Media