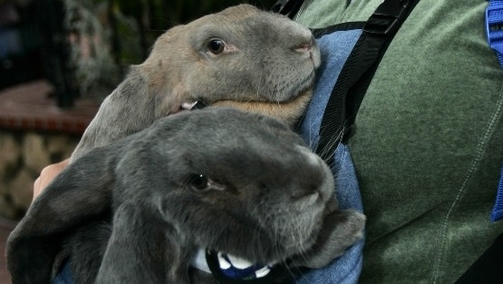 BLESSING OF THE ANIMALS: While plenty of costumed Rovers make a showing at this annual Olvera Street celebration, several rabbits and snakes and the occasional bovine will make appearances. If you don't have a beastie, or you want your furry one to stay at home, you can still be there for the camera-clicky procession. It is at 2 p.m. on Saturday, April 23, but the party's on from noon to 5 p.m.
TOPANGA EARTH DAY: Perhaps "Topanga Earth Days," plural, would be a better way to describe this three-day party at the Topanga Community House Fair Grounds. Environmental education will be part of the fest, yes, but there will be drumming and dance, too. "(E)ach breeze whispers love..." reads part of the copy on the site, so you know this will be an Earth Day with lots of Topanga-style heart. Like. April 22-24
GRILLED CHEESE INVITATIONAL: We can't decide if we're more enticed by the four categories the grilled cheese wizards will be competing in -- one is indeed called The Kama Sutra -- or by the Cheese Calling contest. Wait. We're most intrigued by the Cheesy Poetry segment of the day. Done. The melty malarky happens on Saturday, April 23 at Los Angeles Center Studios.
DEL MAR NATIONAL HORSE SHOW: It started in 1946, and today it stands -- or jumps, rather -- as one of the top equestrian events around. How top? Well, for starters, the show stretches over the better part of a month. One of the marquee events is happening on Saturday, April 23. It's the Night of the Horse, and it is full of wonder and spectacle of a mane-sweet nature. The show opens on Thursday, April 21.
BUNNIES AND DINOS: Talk about your striking counter-programming. American Cinematheque is visiting the natural world at both the Egyptian and the Aero on Saturday, April 23. The natural world at the Egyptian will be gargantuan and prehistoric, courtesy of all three "Jurassic Park" films being on the big screen. The natural world at the Aero will be animated and wisecracky, courtesy of Bugs Bunny shorts being on the big screen (oh, there's an in-theater egg hunt, too, so that is definitely what is up, Doc).
Copyright FREEL - NBC Local Media