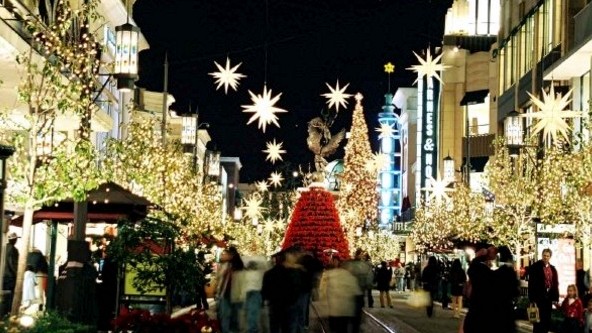 THE GROVE TREE LIGHTING: We don't have a Herald Square in LA, nor a Macy's Thanksgiving Day Parade, but the centrally located shopping destination does a nice job of getting as Christmassy and song-filled as all get-out when it lights its notably large tree. The date this year is Sunday, Nov. 11 -- yep, it does seem to inch a bit earlier each year -- and the celebrity appearances include Michael Bolton, Colbie Caillat, and the Backstreet Boys. It's free, and gets throngy, meaning you'll want to arrive well in advance of nightfall.
MOVIE LOVE ALONG LANKERSHIM: The Valley Film Festival, a cineparty that spotlights all of the storytelling goodness the 818 has to offer, rulls in NoHo, natch. Look for a bevy of shorts celebrating filmmakers and talent in the area through Sunday, Nov. 11.
FULLERTON PUMPKIN LAUNCH: Get a bunch of big-brained CSUF students together, hand them pencils and papers (or tablets, if you prefer), and have them devise ways to hurl hefty gourds high into the air. Then, invite the public to come by the school's athletic fields, for free. Sounds like a fine fall day out, as long as you stand out of the way of the pumpkins on their way down. Saturday, Nov. 10
LA COMEDY FESTIVAL: It's usually just about now when people start to complain how the early darkness is impacting their cheerful, SoCal-sunny outlook on life. Daylight Saving is an abrupt change, which is why we're glad this laff-a-minute gathering of our town's cheekiest, zingiest, punchline-deliver-iest comedians chooses to unfurl in November. Feel like you want to see a few sitcom stars of tomorrow, or just get some smiles in? Make for Los Feliz through Sunday, Nov. 11.
PATCHWORK INDIE: Patchwork, one of the grande dames of our local indie craft scene, recently added a date in Oakland, showing just how the reach this craft-sweet fair has gained. Maybe that is due in part to the dozens of artists who regularly sell their jewelry, soaps, cards, and other pretty gewgaws during the get-together. Next stop? Long Beach, on Sunday, Nov. 11.
Copyright FREEL - NBC Local Media