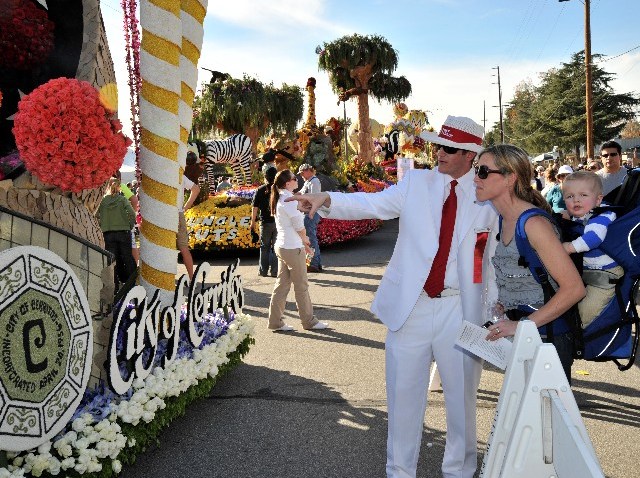 THE TOURNAMENT OF ROSES: Approximately 500 articles will start with the words "the eyes of the world are on Pasadena..." over the next few days. Will there be more eyes watching the famous Rose Parade and Rose Bowl, or more petals attached to floats? Perhaps that question can't be answered, but you can get to the Crown City to watch the float-a-thon on Saturday, Jan. 1. And you can view the floats up-close on Sierra Madre Boulevard through Sunday, Jan. 2. For more Pasadena to-dos, why not ring the city itself? It's answering the phone through Jan. 2.
NEW YEAR'S EVE: Parties, dinners, noisemaker-rattling, repeat. Intriguingly large and/or festive and/or fireworky: 213's eight-bar downtown party, watching fireworks from the deck of a vintage ocean liner, dining on or near the Pacific, and hanging out at a castle. Plus: much, much more.
SURF CITY SPLASH: What's your New Year's morning tradition? Turn over and plump the pillow? Right. You could always don something swimsuit-ish and make for Huntington Beach, where a whole horde of goosebumpily adventurers will be hot-footing -- or perhaps we mean "cold"-footing it -- into the Pacific. For good causes, yes, but for the just-because-ness of it, too. Noon, Jan. 1
MARX-BASED MERRIMENT: Screwballs are reigning at the Aero over the weekend, which is the perfect, levity-laden way to greet a fresh year. Okay, get your solemn pronouncements and resolutions in, and then go watch the Marx Brothers in "A Day at the Races" and "A Night at the Opera" on Saturday, Jan. 1. Groucho's grandson will be in attendance. Reason #3,587 it is good to call this good place home.
HAPPY BIRTHDAY, ANGELS FLIGHT! Now. Where did we put that penny, anyway?
Copyright FREEL - NBC Local Media