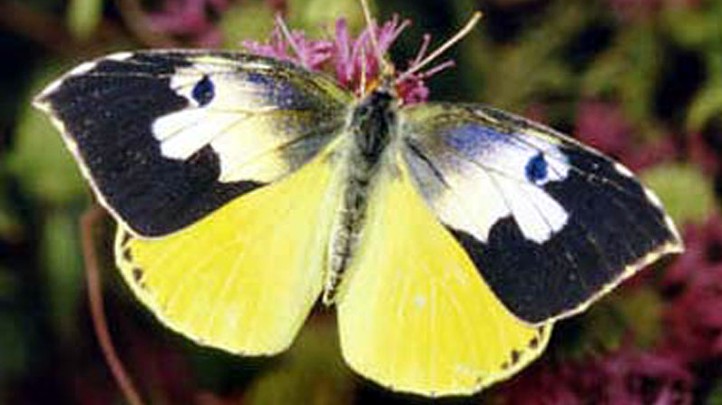 If you've stepped inside the Butterfly Pavilion, the Natural History Museum's ever-popular warm weather attraction, you know that no, a hundred tiny winged creatures do not immediately land on your shoulders and arms, a la an animated film.
But you also know that if you stand very still, and you're in the right place at the right moment, a California Dogface or Spicebush Swallowtail just might plant its little legs down on you, somewhere. And that's when you call for your spouse or parent to come take a snapshot and quick (note that it is hard to call for a spouse or parent when you're trying not to move your mouth muscles, so best practice this technique at home).
The Butterfly Pavilion opens for 2011 on Sunday, April 10, and stays opens all the way through Labor Day, which is Monday, Sept. 5.
And yes, the California Dogface butterflies and the Spicebush Swallowtails will be back (probably not exaaactly, the same ones as last year, but then you can guess that). So will about 50 other moth-ish, butterfly-ish, be-winged creatures of beauty and mystery.
Waiting for a butterfly to shoulder-swoop you isn't the only activity inside. There will be the watching of nectar eating and the reading of interesting facts as well, involving eggs and pupal stages and such.
The Butterfly Pavilion is a separate ticket from the Natural History Museum, note; an adult get-in is $3. Also note that this is year 13, a fact that could be construed as mysterious as the butterfly itself. Butterflies aren't superstitious are they? They should be, because any place that reaches its 13th year is doing something really well.
Copyright FREEL - NBC Local Media