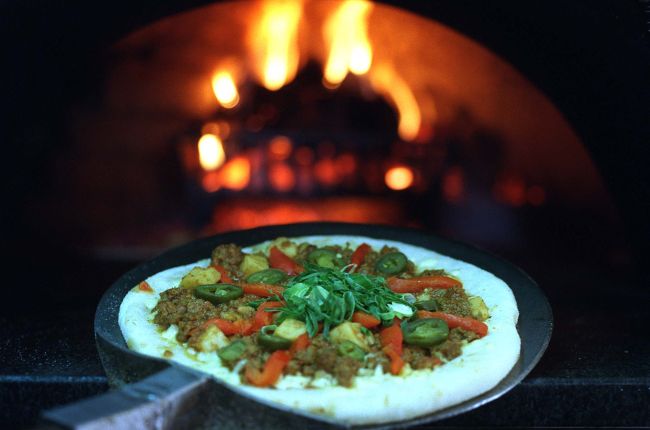 If you're a spice fiend who's only satisfied when tears are streaming down your face, Lucifer's is your pizza joint. Stuffed into a goth-themed space on Hillhurst about the size of Satan's heart, Lucifer's has been causing a stir with its devilishly hot pies. Select your burn-level from "zero," "medium," "fiery" or "blazing." The blazing is so hot they don't even offer it on the side -- it's a mix of fiery sauce plus chilis and other on-the-fly ingredients (so don't piss off the cooks). Flavors like "The Ringburner" provide maximum heat. The "Hot Chick" -- chicken and pepperoni with veggies and hot chili sauce -- is particularly tasty.
OK so the spice is right, but after the novelty (and the burn) wears off, does Lucifer's give good pie? If we were to dare to make a suggestion to the chef-demons, it would be to thin out the crust and amp up the cheese. Lucifer's claims to be New York-style thin-crust, and does a better job than most in this pizza-challenged city. But there was minimal flop in the crust with which to fold our slices. And true NY-style pizza cheese should be juicy, gooey, and always threatening to slide off in a pile of cheesy goodness; ours stayed firmly in place. Because we're gluttons, we'd also ask for Buffalo tenders instead of wings. Most of the blazing sauce gets tossed with that devilishly unhealthy skin.
Does all this amount to deadly sin? Hell no. We'll be back for seconds (curious about that Roast Pumpkin Prosciutto pie), but this time we're ordering extra cheese.

Lucifer's Pizza
1958 Hillhurst Ave.
11AM-11PM daily
Copyright FREEL - NBC Local Media