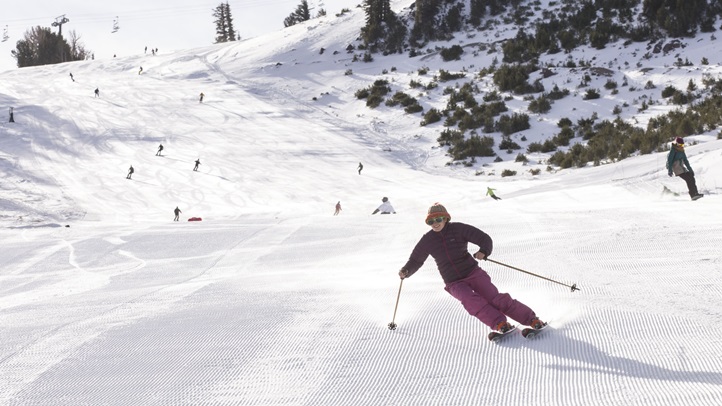 IF AGE... is just a number and youth is a state of mind, what does that make a date on the calendar? Some might say certain dates, like the official kick-off of winter, merely serve as a small numbered box on a piece of paper in someone's day-keeper folder. Because in reality, outside of the calendar world? Winter, or at least the idea of winter, very often arrives weeks ahead of its third-week-in-December debut.
LOOK TO... Mammoth Mountain on Thursday, Nov. 7 for further proof. Not only did the ski destination's opening day open on time -- not always easy, when weather is key -- but it had a good deal of snow to get things going. The base is 12-18 inches, meaning that six runs and three lifts warmed up and got rolling. Or schussing, more like it; a lot of skiers gave day one a happy go (as pictured above).
THE WEEKEND CONTINUES... Even if you had work commitments, as many people down the mountain do, you can still get up for the opening weekend festivities. Live music, film premieres, competitions, and more cold-nosed convivialities are set to liven up the Sierra scene over the next few days. And, if you're able, stay put: Word has it "a ton of snow" could be on the way next week. That may be an out-sized statement to hail from the mountain, but it is the Sierra we're talking about, which is known to attract a snowflake or a billion weeks ahead of winter.
SKI CALIFORNIA: Most schuss spots are still closed, but one made its debut a day ahead of Mammoth: Boreal near Truckee. Expect the other resorts to heat up the lifts, bing, bing, bing, one after the other, in the next three to six weeks.
Copyright FREEL - NBC Local Media