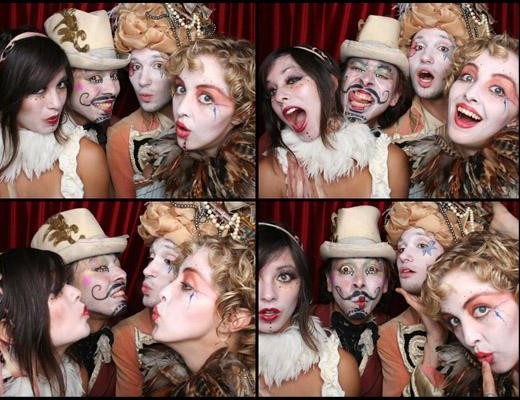 You couldn't make Burning Man, but a gossamer-fine slice of Burning Man is coming to you, or at least nearby. Can you hear the drums in the distance? Lucent Dossier, that cryptic cadre of performers and clowns and conjurers, are twirling into the El Rey on Thursday, October 8th.
Will there be enchantments? Spells cast over the crowd? Will you forget about the file you owe accounting, at least for an hour or so? Yes, yes, and yes (although you could deliver the file now and have it off your mind before the show). The artists behind Lucent Dossier have helped others shake off the daily stresses at Burning Man, The Edison and Vampire-Con. We're thinking the troupe is a regular on the circus circuit thanks in part to their knack for vaudeville-y vamping and their ability to make magic.
Magic, defined: Stilt walking and body-contortioning and jesting and burlesquing and fire dancing and the swallowing of swords. Look to Lucent to summon all the spirits of Coney Island and shadowy Parisian rues for a whimsical night on Wilshire.
You need this right now, we're guessing. You need make-believe with a dark streak of daring and a mystery-flavored meringue on top. Now, deliver that file, and then turn yourself over to fantasy for a night.
Lucent Dossier's Ravenous Rouge is at El Rey on Thursday, October 8th at 8PM.
Copyright FREEL - NBC Local Media