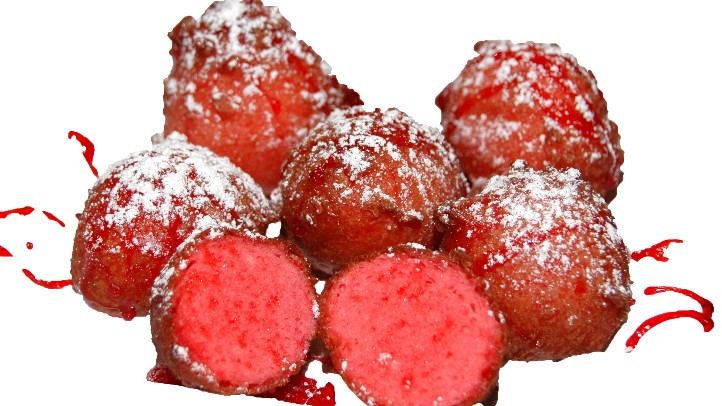 TELL US: Do you ever have this experience? Where you hear about something so odd and yet so intriguing that it begins to pop into your head at highly unusual moments? We've been experiencing that particular sensation with deep-fried Kool-Aid. When we heard that the treat would be sold at the 2011 OC Fair, we were like, "wow, that is hard to wrap the head around, and we will have to think about that later." But fried Kool-Aid then proceeded to pop into our minds about a dozen times since, at the store, on the road, while drinking beverages that are not Kool-Aid. Which makes us think we'll just have to swing by Costa Mesa and try it. And now we can: OC Fair opens on Friday, July 15, and runs for about a month.
THE TREAT: Obviously one can't pour Kool-Aid into a fryer and cross their fingers (well, we suppose you can, but good luck with that). The fair treat is actually a plump little ball with a Kool-Aid-y center. We like that a childhood treat famed for its cooling, poolside refreshingness is going hot and doughy. Again, hard to wrap the head around. For more on what the fair'll be frying up, follow at the site, or be adventurous: Hit the fair and order a few things on a whim. (The deep-fried Kool-Aid will be a Chicken Charlie, you'll want to note.)
THE THEME: The 2011 fair theme is indeed Let's Eat! And we'd never be one to not heed a fair theme.
Copyright FREEL - NBC Local Media