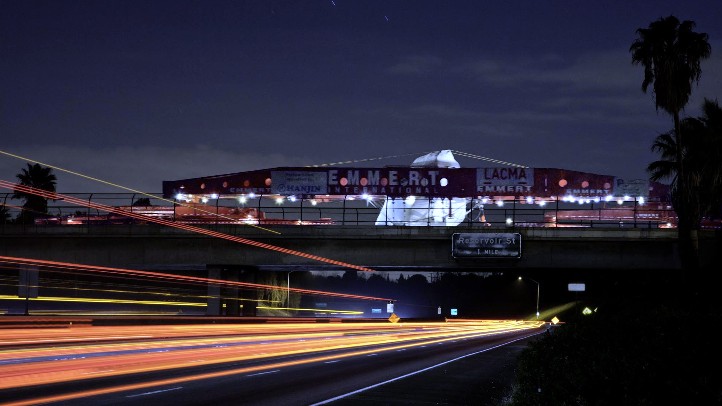 Something you can say about a 340-ton boulder, with some confidence? It's not going anywhere.
We're right, right? Well, mostly; the fact is, the 340-ton boulder that's now a part of one of our city's most talked-about artworks in years *did* go somewhere last spring, from a quarry near Riverside to its new home at the Los Angeles County Museum of Art on Wilshire Boulevard.
But now that it is at LACMA it will be staying put. Meaning? If you don't get to see the debut of Michael Heizer's "Levitated Mass" on Sunday, June 24 -- its grand opening date -- bet it'll still be there the next day. And the next. And the next.
If you are aiming for June 24, here are a few tips, most direct from LACMA. One? Several zip codes along the rock's route to LA are getting a little something sweet: The museum will waive admission for people living in those zip codes for a week, from Sunday, June 24 through Sunday, July 1. You'll want to make sure you are on that list. Oh, and unrelated but worth noting: Buy a ticket to the museum through June 30 and you'll three months of membership dealies free. Solid as a rock, that deal. It's called the Summer Pass.
Second tip? Arrive early.
Third tip? Arrive early.
Fourth? We're not going to say arrive early. We will point out, though that it is Andell Family Sunday will be happening at the museum, so make sure if you have the kids that you find a table with some activities afoot. Should you need some downtime from the big rock.
And the fifth tip? This isn't affiliated with LACMA but we'd be remiss not to mention it. Ice Age Encounters at the Page Museum -- LACMA's tar pits-close neighbor -- will be growling that same day. It's the big saber-tooth puppet co-created by the Jim Henson Creature Shop, yeah? Cool stuff. That's another "arrive early" deal and you'll need to pay Page Museum admission.
Follow NBCLA for the latest LA news, events and entertainment: iPhone/iPad App | Facebook; | Twitter; | Google+; | Instagram; | RSS; | Text Alerts | Email Alerts
Copyright FREEL - NBC Local Media