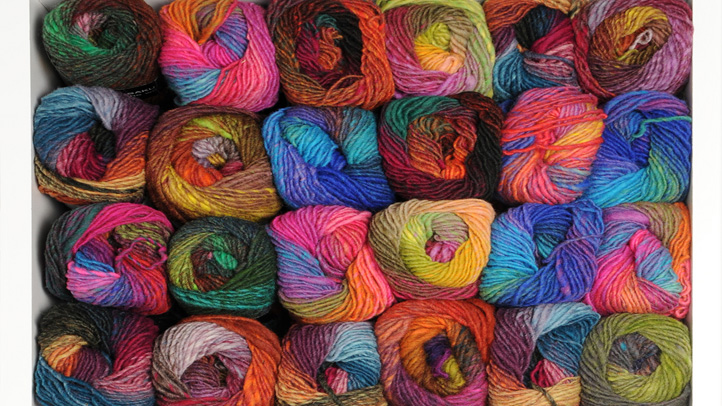 ART EVERY DAY: There are those who believe that art must be viewed inside an institution or proper museum or gallery, but knitters, and people who admire the textile crafts and yarn-based pursuits, know this is absolutely not so. You can actually wear art, and parade about in it, because, nope, it doesn't need to hang upon a wall or be displayed in a sculpture garden. That's part of the beauty of knitting: You're making something beautiful and one-of-a-kind-y, yes, but something that is indeed wearable art. Of course, anybody with a beloved yarn bag or basket and a pair of trusty needles might also say that the search for new and different yarns and buttons and patterns and looks lands on the insatiable side of things. It's a serious passion, knittery, and this is supported by the number of fervent knit and crochet groups who regularly meet, by the trucks that sell interesting yarns, and the urban yarn artistes, the jesters who will tie a few colorful strands around a street pole or traffic light, for art or mirth's sake. Is this you or someone you love? Then we're betting you're headed to Costa Mesa for...
YARNOSPHERE: Call it a weekend-long hobnob for knitters and crocheters of every stripe and purl. Billed as a "fun-filled shopfest with learn-a-longs for yarn lovers," Yarnosphere will unfurl, like a pretty skein unraveling from a tightly wound ball, at the OC Fair & Event Center on Saturday, Oct. 12 and Sunday, Oct. 13. The sponsor? That would be Yarn Nation. The cost to get in? Ten bucks.
ALL THE TO-DOS: Classes, a sit-n-knit for charity, guild gatherings, and plenty of vendors to browse are on the docket, but bet there will be ample time spent just sharing tips and what you're working on. Because that's the best, right? You want to talk little victories and little conundrums (and maybe get a new tip on how to overcome the issue). Isn't that a weekend day well spent? After all, you're creating art.
Copyright FREEL - NBC Local Media