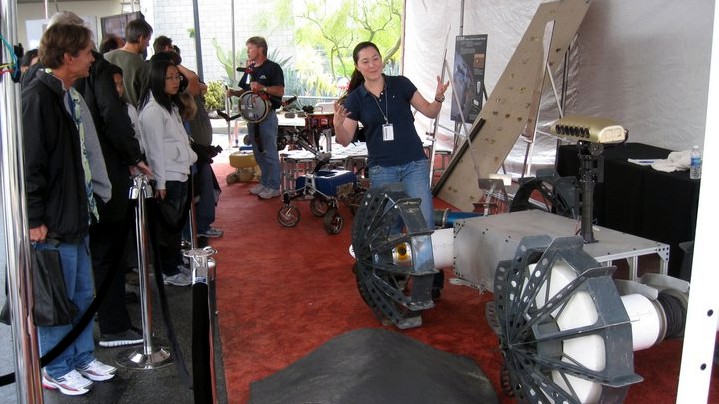 While LA is portrayed many ways by the world at large, we seem to get unfairly pigeonholed by some as a place that is, shall we say, not so intellectually inclined.
We here know that's just a bunch of hooey, of course. And the next time this happens we will have three little letters handy to make our case: J and P and L. That's because one of the planet's smartest places -- honestly, NASA, you should trademark that, we think -- happens to be right here in Pasadena, full of some of the world's smartest people doing the brainiest things imaginable.
Yep, it is the world-famous NASA Jet Propulsion Laboratory we speak of, that bustling hub of outer space-bound machinery and complex spacecraft tech and the amazing people that send stuff up to take a closer at the cosmos. (Note: "Send stuff up to take a closer look" is not the scientific term, just to be clear.)
We love JPL, we think it is very much what LA is about, and if you think that as well you should get to know the space place better. And you can, for the Pasadena institution is holding its annual open house on Saturday, June 9 and Sunday, June 10.
Rovers and machines and demos and bulky things with big, Mars-ready wheels will be on display. Engineers will chat. And kids will ask questions and want to go home and draw their own rockets and spaceships.
Yep, people everywhere else, Los Angeles may be "spacy," as some so often say, but with good reason: We have NASA JPL in the house. What? You've got no adequate comeback to that? Okay. Let's put the ol' airheadedness arguments to rest, then. Deal? Awesome. Thanks.
Follow NBCLA for the latest LA news, events and entertainment: iPhone/iPad App | Facebook; | Twitter; | Google+; | Instagram; | RSS; | Text Alerts | Email Alerts
Copyright FREEL - NBC Local Media