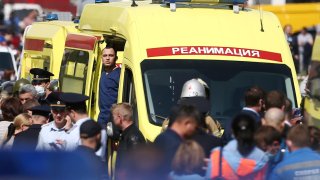 Several children and a teacher have been killed in a shooting in a school in Russia.
The shooting took place at a school in Kazan, in the Republic of Tatarstan.
The motivation for the attack is still unknown.
Several children and a teacher were among the dead following a shooting at a Russian school on Tuesday, which left many others wounded.
Russia's Interior Ministry tweeted a statement earlier in the day in which it said: "This morning Tatarstan police received a message that in School 175 in Kazan the sound of shots were heard. According to preliminary information, there are dead and wounded."
"Police and other law enforcement officers immediately went to the scene. The attacker was detained by officers of the patrol service. The law enforcement operation is still ongoing at the school. Every effort is being made to ensure the safety of the students. A counter-terror regime has been implemented."
The shooting took place at the school in Kazan, a city in the Republic of Tatarstan in Russia. Media reports conflicted over the exact circumstances around the incident and the number of fatalities.
Earlier reports stated that nine people had been killed in the shooting, mostly children, and then other reports suggested there had been 11 fatalities.
But AP news agency cited the governor of the Tatarstan Republic as saying that four male and three female eighth-grade students had died in the shooting. Twelve more children and four adults were hospitalized in the attack, Governor Rustam Minnikhanov said.
Russian news agencies RIA Novosti and TASS initially reported that there were two attackers; RIA reported that one of the attackers had been detained and the other neutralized.
Subsequent reports stated that there was a lone gunman, however, with Minnikhanov saying that "the terrorist has been arrested, (he is) 19 years old. A firearm is registered in his name."
"Other accomplices haven't been established, an investigation is underway."
The motivation for the attack is still unknown.
Footage posted on social media has shown students trying to flee the school by climbing out of classroom windows, another video purported to show a corridor in the school littered with debris while another showed a man being pinned to the ground outside the school by a police officer.
Russian President Vladimir Putin has reportedly expressed condolences to the families of the victims and injured, and asked the head of Russia's National Guard to look at possible new regulations on gun ownership.
"The fact is that sometimes types of small arms are registered as hunting weapons, which in some countries are used as assault rifles, and so on. This will also be urgently worked out by the Russian Guard," Putin's press secretary Dmitry Peskov said, RIA reported.
Copyright CNBCs - CNBC