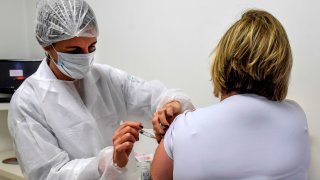 The coverage on this live blog has now ended.
With coronavirus cases surging, retailers are encouraging U.S. consumers to shop online in lieu of lining up for traditional Black Friday doorbuster deals. Public health officials have warned Thursday's Thanksgiving holiday could exacerbate the outbreak in the U.S.
The following data was compiled by Johns Hopkins University:
Global cases: More than 61.64 million 
Global deaths: At least 1.44 million
U.S. cases: More than 13 million
U.S. deaths: At least 264,858
South Korea's new cases top 500 for the third straight day
South Korea reported 504 new coronavirus cases on Saturday — the third straight day that new infections exceeded the 500 level.
According to the Korea Disease Control and Prevention, there were 486 local infections and 18 imported cases reported. It brought the total cumulative cases in the country to 33,375, including 522 deaths.
The recent spike in numbers came after the government lifted some social distancing measures in a bid to prop up a weak economy, according to the Associated Press which reported that high-risk venues like nightclubs and karaoke bars were allowed to reopen, as were sports venues. Officials reintroduced some of those measures again this week, and may be forced to take further action if the transmissions do not slow, AP reported.
LA issues stay-home order as cases surge
Los Angeles has issued a new stay-home order as coronavirus cases continue to rise in the city. The new order is for three weeks and will go into effect Monday. LA County confirmed 24 new deaths and 4,544 new cases of Covid-19. Nearly 2,000 people in the county have been hospitalized.
"We know we are asking a lot from so many who have been sacrificing for months on end," Public Health Director Barbara Ferrer said. "Acting with collective urgency right now is essential if we want to put a stop to this surge."
The order advises residents to stay home "as much as possible" and to wear a face covering when they go out. It bans people from gathering with people, who aren't in their households, whether publicly or privately. There are exceptions for "church services and protests, which are constitutionally protected rights."
-Riya Bhattacharjee, AP
Oxford, WHO scientists say more data needed from AstraZeneca vaccine trials
More data will be needed from AstraZeneca's coronavirus vaccine trials beyond what was presented in a press release to determine the drug's safety and efficacy, scientists from the University of Oxford, which is co-developing the vaccine with the British drug maker, and the World Health Organization said.
Shares of AstraZeneca dipped this week after the company announced interim results from its vaccine trials on Monday. Some experts in the U.S. have said they're concerned about the methods used during the company's late-stage clinical trials regarding dosage amounts given to two separate groups of participants.
"There's always a problem in announcing scientific results by press release, and that is that you don't have all the data out there and people aren't able to really look and think about the data properly," Sir John Bell, the Regius professor of medicine at Oxford University, told CNBC's "Closing Bell."
Kate O'Brien, director of immunization, vaccines and biologicals at WHO, agreed with Bell during the organization's press briefing earlier in the day, saying that there's only a "limited amount that can be said in a press release" and that more information is needed.
Dr. Soumya Swaminathan, WHO's chief scientist, concurred and said AstraZeneca's trial figures "are still too small to really come to any definitive conclusions."
—Noah Higgins-Dunn
Andrew Lloyd Webber confident Broadway will return
Legendary composer Andrew Lloyd Webber told CNBC he was "very, very optimistic" that his latest musical will open in London in May, as is scheduled, despite the coronavirus pandemic.
"I'm very, very positive, certainly as far as Britain is concerned, that I think after a rather bumpy ... January and perhaps the beginning of February, I think things will start to get a lot better," Webber said on "Closing Bell." The musical, "Cinderella," was supposed to open six weeks ago, he noted, but was delayed due to the health crisis.
Webber has been advocating for live entertainment throughout the pandemic and the desire to see a speedy return was one reason why composer of "The Phantom of the Opera" enrolled in AstraZeneca's Covid-19 vaccine trial.
"Whilst I think do that there is a great value in filming theater and it's getting much, much better, my concentration has really been to get theater back open again," Webber said, possibly in reference to the Disney+ version of "Hamilton," which hit the streaming service during the pandemic.
"I'm a theater animal. I'm not really a cinema animal, and I don't believe you can really, really ever — at the moment — have a substitute for the live experience, of that extraordinary thing when you go to the theater and you know that that performance is just for you and the other members of the audience," he added.
— Kevin Stankiewicz
When cases fall, it's time to 'scale up' infrastructure, WHO says
As some countries in Europe begin to turn around the direction of outbreaks that were rapidly expanding, the World Health Organization warned "do not let your guard down."
The WHO's comments come as a number of countries, including France, Germany and the United Kingdom, have seen the number of daily new cases begin to plateau or drop in recent weeks after implementing strict measures to curb the spread of the virus last month.
"It is good to see the measures taking effect and transmission going down, but it is not time to let up," Maria van Kerkhove, head of the WHO's emerging diseases and zoonosis unit, said. "And it is even time to scale up. In situations where you're bringing this under control, it is time to scale up your public health infrastructure still."
Van Kekhove emphasized that countries should continue to ramp up the contact tracing workforce, testing capability and to make sure the health systems are prepared "for any potential resurgence."
—Will Feuer
Pilot shortage prompts rare flight cancellations at Delta over Thanksgiving break
Delta Air Lines canceled hundreds of flights over the Thanksgiving amid staffing shortages during the busiest travel week since the pandemic began, CNBC's Leslie Josephs reports.
On Thanksgiving Day, Delta canceled about 300 flights, or roughly 20% of its schedule, and around 160 flights, around 9%, of Friday's schedule.
"A number of factors have pressured our ability to timely staff several dozen scheduled flights," Delta said in a statement. "We apologize to our customers for any inconvenience these flight cancellations have caused."
—Terri Cullen
Long lines for testing not going away, Summit CityMD CEO says
The hours-long lines at urgent care locations around New York City are not going away anytime soon, Summit CityMD CEO Dr. Jeffrey Le Benger told CNBC.
Of the roughly 34,000 patients that Summit CityMD sees every day in New York and New Jersey, about 70% are related to Covid-19, Benger said.
"These lines are going to continue until a vaccine comes out and until the nice weather comes about," Benger said on "Squawk on the Street." "We are being inundated, and we are trying to take care of all of these patients who come and see us. We have, yes, lines around the block."
—Will Feuer
Evictions have led to hundreds of thousands of additional infections
Forty-three states plus Washington, D.C., temporarily barred evictions during the pandemic, which at one point was estimated to displace as many as 40 million people.
When those states lifted their moratoriums, more than 430,000 additional people were sickened with the virus and 10,700 extra people died, according to new research.
The findings have raised alarm about what will happen when the national eviction moratorium lapses next month.
"This is a time where it's not an overstatement to say that for many people, eviction can lead to death," said Helen Matthews, communications manager at City Life Vita Urbana, a non-profit in Boston.
—Annie Nova
Denver mayor apologizes for traveling after advising residents to not travel
Denver Mayor Michael Hancock apologized for traveling to see his family in Mississippi for Thanksgiving — only hours after advising Coloradans to stay home for the holiday.
"I recognize that my decision has disappointed many who believe it would have been better to spend Thanksgiving alone," Hancock said in a tweet on Wednesday. "As a public official, whose conduct is rightly scrutinized for the message it sends to others, I apologize to the residents of Denver who see my decision as conflicting with the guidance to stay at home for all but essential travel."
Earlier on Wednesday, Hancock tweeted public health guidance from his office that advised residents to avoid travel and stay home as much as they can.
—Noah Higgins-Dunn
Shopping in crowds 'not on the list of things that would be safe,' Biden advisor says
Going to the mall and shopping in crowds of people "is really not on the list of things that would be safe right now," said Dr. Celine Gounder, an infectious disease specialist at the NYU Grossman School of Medicine and a Covid-19 advisor to President-elect Joe Biden.
Gounder's advice comes as retailers encourage shoppers to buy online for Black Friday, though some people have already turned to the malls for the post-Thanksgiving tradition.
"Whether it's with respect to shopping or hanging out with family or whatever it is, you need to be masking, you need to be social distancing," Gounder told "CBS This Morning," advising people to remain 6 feet apart and to stay outside as much as possible.
—Noah Higgins-Dunn
Suspected North Korean hackers reportedly targeted AstraZeneca
Suspected North Korean hackers tried to break into vaccine developer AstraZeneca's systems recently, Reuters reports.
The hacking attempts targeted a "broad set of people," a source told Reuters, including staff working on Covid-19 research but are not believed to have been successful.
The hackers posed as recruiters on networking site LinkedIn and WhatsApp and made fake job offers to AstraZeneca staff, Reuters said. The hackers sent documents purporting to be job descriptions that included malicious code designed to gain access to a victim's computer.
—Terri Cullen
Retail analysts say Black Friday may be less important than usual
Follow CNBC's live blog covering Black Friday and holiday shopping throughout the day as the news breaks.
AstraZeneca CEO touts a new vaccine trial in response to doubts raised in U.S.
U.K. government officials have openly backed a coronavirus vaccine from AstraZeneca and Oxford University, after doubts were raised in the U.S. this week, reports CNBC's Matt Clinch and Natasha Turak.
Chief of the White House's Operation Warp Speed, Moncef Slaoui, and others in the U.S. have expressed concern over the age group tested, saying the 90% efficacy was only shown for the lowest risk group, which numbered 2,741 people below the age of 55. 
The U.K. government's top scientific advisor, Patrick Vallance, said the focus should be on the fact that the vaccine actually works when asked about doubts regarding the trial.
Pascal Soriot, the CEO of AstraZeneca, confirmed to Bloomberg on Thursday that the British pharmaceutical giant will likely run an additional global trial to evaluate the efficacy of its Covid-19 vaccine.
"The headline result is the vaccine works and that's very exciting," Vallance said during a news conference on Thursday.
—Melodie Warner 
Read CNBC's previous coronavirus live coverage here:
Hospitalization surge in Midwest; Thanksgiving set to accelerate spread
Copyright CNBCs - CNBC