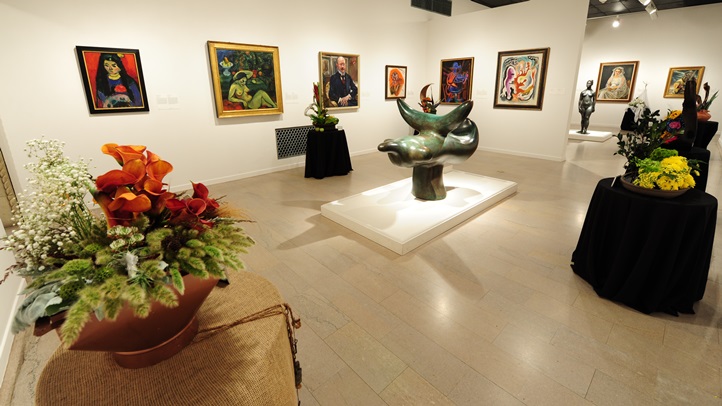 BEAUTY IN BREVITY: The art-nature nexus is an old one, for sure, but the arrow of inspiration has only ever pointed in one direction, or mostly. Nature serves as the inspiration for art. Done? Done. Flowers and trees and rivers and sunshine fill paintings and collages and films and watercolors, but paintings aren't found dotting the woods, typically. There are a few exception, however, where that arrow gets flipped, and points the other way, and the result tends to be quite dynamic. One of the best-known of these instances happens at The San Diego Museum of Art each spring, although "happens" doesn't seem to go quite far enough. Well over a hundred bouquets burst and bloom around the institution, paying homage to particular pieces and artworks through petal, leaf, and stem. It's Art Alive, and it's ready to blossom from Friday, April 11 through Sunday, April 13.
120 FLORAL DESIGNS: So the deal? Dozens of people who know how to arrange flowers in a vase or pot or other holder in an interesting and eye-popping way have been matched with a work inside the museum. The next step? Creating a flowery presentation that pays homage to the painting or piece through color, form, size, shape, or a bit of undefinable flair. The viewer might see hues that echo through the bouquet and the painting or sculpture it is saluting or other commonalities. It is, after all, art influencing nature, so the bounds of creativity and interpretation are, well, fairly boundless.
THE ROTUNDA: Be sure to spend time amongst the large-scale flower design in the rotunda -- Carlos Franco is this year's designer -- on your way to see the individual bouquet-artwork pairings. But don't dally; paintings may weather the centuries, but a clutch of lilies and roses? The shelf life is notably shorter.
Copyright FREEL - NBC Local Media