What to Know
Health care workers deemed a top priority in receiving vaccinations.
In mid-January, California announced it is immediately allowing residents 65 and older to get vaccines.
It will likely be well into 2021 until vaccines are available to the general public.
Initial allocations of COVID-19 vaccine arrived in Southern California Dec. 13, marking a major milestone in the nation's largest vaccination effort.
That's welcomed news in a region that has seen a post-holiday surge that left intensive care unit capacity at 0% in the Southern California region.
Here's what happens next, keys to vaccine distribution and other frequently asked questions.
Note: This page will be updated as more details about vaccine distribution become available.
Who will get the vaccine first?
In California, priority will go to healthcare workers on the pandemic's front lines and long-term care residents. Priority phases are developed by the Centers for Disease Control and Prevention and with guidance from the California Department of Public Health.
Health care workers are deemed a top priority in receiving vaccinations in what is known as "Phase 1a'' of the CDC-determined distribution plan. Los Angeles County will distribute the initial wave of doses to acute-care hospitals. Vaccines for long-term care staff and residents will be distributed via a federal contract with CVS and Walgreens.
When Could I Get the Vaccine?
Answer the questions to calculate your risk profile and see where you fall in your county's and state's vaccine lineup. This estimate is based on a combination of vaccine rollout recommendations from the CDC and the National Academies of Sciences, Engineering, and Medicine.
For a more detailed breakdown of who is included in each priority group, see this methodology.
Source: the Vaccine Allocation Planner for COVID-19 by Ariadne Labs and the Surgo Foundation
Interactive by Amy O'Kruk/NBC
Collapse
Will there be enough for all health workers?
No, not in this first allocation. In LA County, vaccines will be distributed to a total of 83 hospitals for administration to staff members, but providing shots for all will take time.
What about seniors?
On Jan. 13, California said it is immediately allowing residents 65 and older to get scarce coronavirus vaccines. The move puts seniors in line before emergency workers, teachers, childcare providers and food and agriculture workers even as counties complain they already don't have enough doses to go around.
When will vaccines be available to the general public?
The pending arrival of vaccines offers some glimmer of hope about an potential end to the pandemic, but officials noted it will be well into next year until vaccines are available to the general public. Initial doses will be limited as manufacturing ramps up.
Where will vaccines be distributed?
Schools, libraries, current testing sites and clinics are all candidates. Pharmacies like CVS and Walgreens also plan to distribute the vaccine. Vaccination super sites capable of dispensing thousands of shots per day have been established at Disneyland, Dodger Stadium and other locations, possibly including fairgrounds.
How many shots are needed?
All but one vaccine under development require two shots. Pfizer's second shot is three weeks later, and Moderna's is four weeks. The doses are administered days apart to achieve the effectiveness in clinical trials. The vaccines work in different ways, but they all assist the immune system in fighting the virus. It usually takes a few weeks after the second dose for a vaccine to provide full protection.
How long will widespread vaccination take?
It will likely take months to immunize everyone who wants to be vaccinated in the United States. The head of President Trump's Operation Warp Speed program has said the U.S. should be able to distribute enough doses to immunize 100 million Americans by the end of February -- or nearly a third of the U.S. population. He has said the entire U.S. population -- those seeking a vaccine -- could be vaccinated by June.
Can I get COVID-19 from the COVID-19 vaccine?
No. A vaccine simply teaches your body's immune system how to fight the virus that causes COVID-19. Here's a close look at how the Pfizer BioNTech vaccine works.
How will the vaccine be shipped?
FedEx and UPS officials say their shipping networks are ready, even as they already face a busy holiday season. Vaccines will be loaded and unloaded before other cargo, and flights carrying vaccines will receive priority from the Federal Aviation Administration, the officials said. Vaccine packages will have special labels and devices to monitor location and temperature -- a key factor in vaccine shipping and storage. US Marshals will play a role in protecting the vaccine shipments.
What about side effects?
Most people don't have serious side effects from vaccines. Severe reactions are extremely rare, according to the Department of Health and Human Services. As for Pfizer's and Moderna's vaccines only 10% to 15% of volunteers reported side effects that were "significantly noticeable." Participants told CNBC in September that they experienced high fever, body aches, headaches, exhaustion and other symptoms. While uncomfortable, the participants said they often went away after a day and sooner.
The FDA said there is currently insufficient data to make conclusions about the safety of the vaccine in children under age 16, pregnant women and people with compromised immune systems.
If you do experience side effects, report it here.
What about allergic reactions?
Vaccines can sometimes cause allergic reactions, but they're rare, usually brief and don't come as a surprise. Here's an explainer.
Once the vaccine arrives in California, where is it stored?
Proper storage is one of the keys to vaccine distribution. They must be stored at extremely low temperatures. Pfizer's vaccine requires storage at around minus 95 degrees Fahrenheit. Cedars-Sinai Medical Center, UCLA and UC San Francisco Medical Center are some of the locations with that capability.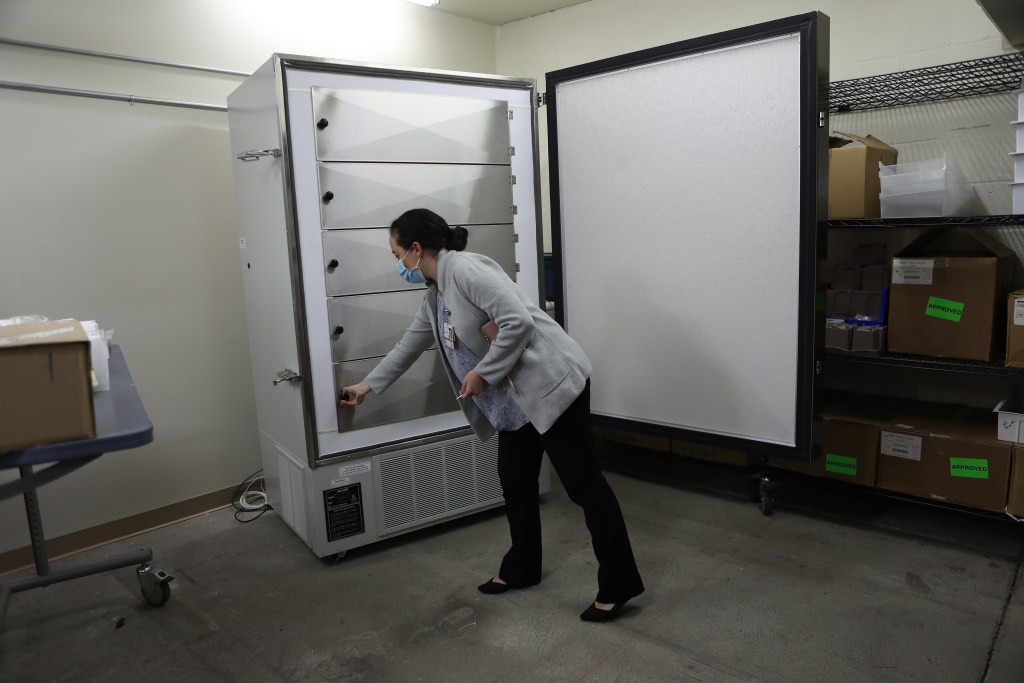 What if I've already had COVID-19?
It's still a good idea to get vaccinated. The FDA said patients may still be at risk of reinfection and could benefit from the vaccine. One problem is that researchers are still trying to determine how long antibody response lasts.
What about children and pregnant women?
You must be 18 to get the coronavirus vaccine. Pfizer began enrolling children between 12 and 17 for trial in the fall. Moderna's trials for children are just starting.
Pregnant woman have been excluded from large-scale clinical trials. Dr. Christopher Zahn, the vice president of practice activities of the American College of Obstetricians and Gynecologists, told NBC News that pregnant women should consult their doctors and make a decision based on the available data and their "individual risk factors and the potential benefits."
Does a vaccine replace masks?
No. What kind of effect the vaccine will have in real-life conditions outside of clinical trials remains to be seen. So, for now, the strategies that have worked to limit the virus' spread -- masks, distancing, hand-washing -- still apply.
"It's only still a piece of the puzzle," said NBCLA contributor nurse Alice Benjamin.
Can my employer require me to get vaccinated?
About four in 10 Americans say they would "definitely" or "probably" not get a vaccine, according to a Pew Research Center survey. Some companies may consider compulsory vaccinations, but there are some exceptions under the law. So here's what to know.
What if the virus mutates?
Not long after China collected samples of the virus and published its genetic code online, allowing researchers to start work on a vaccine, scientists noticed a more contagious strain was spreading in Europe. In a survival-of-the-fittest scenario, the virus was adapting and changing. Here's how scientists monitor those changes and what it means for vaccines.