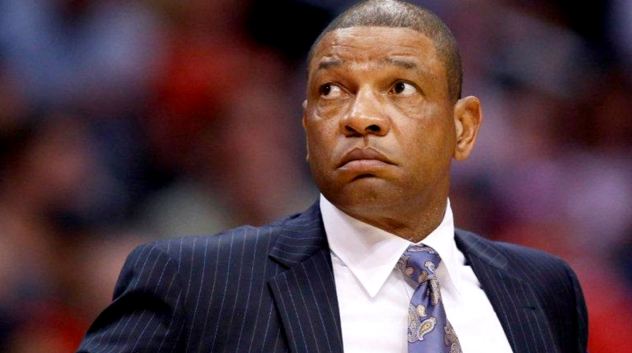 Doc Rivers, the Clippers head coach, said on Monday that the last 48 hours have been difficult for his players after team owner Donald Sterling's purported racist remarks.
"I would like to reiterate how disappointed I am in the comments attributed to (Donald Sterling) and I can't even begin to tell you how upset I am and our players are," Rivers said in a phone conference with the media.
He said he met with the members of the organization, many of whom were hurt.
"That was what I got from all of them," he said. "They are now a part of this and they are upset at this.
"But they are all going to hang in there and so are we -- I can tell you that as a group and as a team. From our fans' standpoint, I want to say that they have been amazing, I can tell you that."
The LA Clippers, who are in the Western Conference playoffs, are in trouble in terms of sponsors. Since the news broke, Kia Motors, Red Bull and Yokohama tires have dropped the team.
On Tuesday, the NBA is expected to talk about its investigation of Sterling and what he supposedly had to say.
Recordings of Sterling allegedly telling girlfriend V. Stiviano he didn't appreciate her publicly associating with blacks or bringing them to Clippers games surfaced amid a lawsuit in which Sterling's wife is demanding Stiviano turn over several fancy cars and a duplex the billionaire gave her.
NBC News has not been able to authenticate the audio tapes posted on TMZSports.com or extended clips posted by Deadspin.
Clippers president Andy Roeser released a statement, saying: "Mr. Sterling is emphatic that what is reflected on that recording is not consistent with, nor does it reflect his views, beliefs or feelings. It is the antithesis of who he is, what he believes and how he has lived his life."