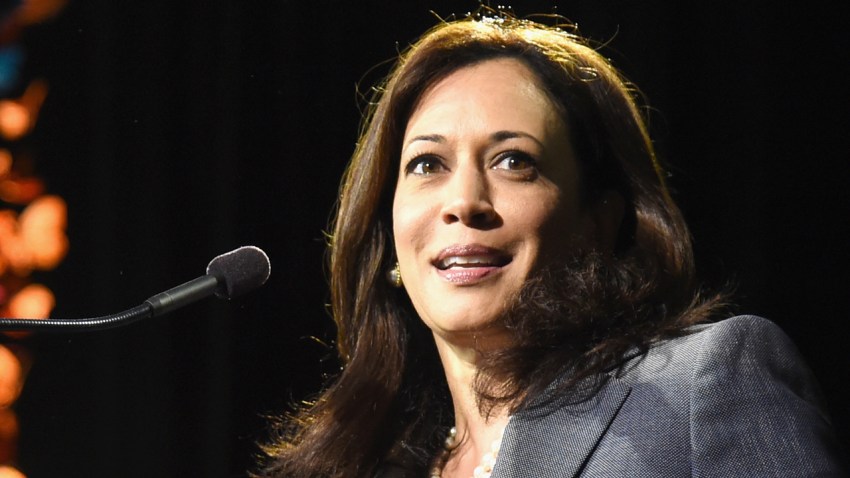 Incumbent Kamala Harris has been re-elected as Attorney General.
Voters backed the Democratic Attorney General in early returns Tuesday as she made a bid for her second term as California's top attorney against little-known Republican challenger Ronald Gold.
She was named victorious with 72 percent of precincts reporting, winning 55 percent of votes cast, with 2,360,077 total in the early hours of Wednesday.
Harris, a former San Francisco district attorney, led self-described political novice Ron Gold.
Gold is a Republican and former deputy attorney general who made his support of legalized recreational marijuana for Californians over 21 the centerpiece of his uphill campaign.
Harris spoke out against California's failed Proposition 19 legalization measure when she first ran for the office in 2010.
Since then, she has softened her stance and now says California should wait and watch how Colorado handles issues arising from its vote to legalize recreational pot. She supports the use of medical marijuana.
Harris, 50, who served two terms as San Francisco district attorney, was the first black woman elected as district attorney in California when she won that seat in 2003. She is also the state's first black, female attorney general.
In her first term, she focused on cross-border gangs that increasingly target businesses and financial institutions through high-tech crimes such as digital piracy and computer hacking. She also helped secure a settlement with major mortgage lenders and got extra money for California.
Harris is a personal friend of President Barack Obama and widely presumed to be a possible candidate for governor or U.S. Senate in the future, if she wins a second term as attorney general.
Gold, 69, is a private-practice attorney in Woodland Hills. He served as deputy attorney general under Attorney General Evelle Younger from 1971 to 1979.
He finished second behind Harris in a six-way June primary race.
Copyright AP - Associated Press