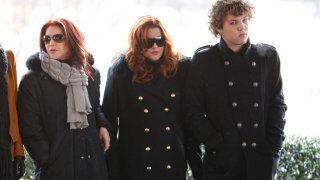 Lisa Marie Presley's son Benjamin Keough has died at 27, a representative for Presley confirmed to NBC News Sunday afternoon.
Keough was found dead Sunday of an apparently self-inflicted gunshot wound in Calabasas.
Keough was found around 6:30 a.m. in the 24800 block of Alexandra Court with a gunshot wound to his chest, according to Deputy Juanita Navarro-Suarez of the Los Angeles County Sheriff's Department.
He was pronounced dead at the scene.
A representative for Lisa Marie Presley told NBC News "she is completely heartbroken, inconsolable and beyond devastated but trying to stay strong for her 11-year-old twins and her oldest daughter, Riley."
"She adored that boy. He was the love of her life."
Keough was the grandson of legendary singer Elvis Presley and Priscilla Presley.
If you or someone you know is at risk of suicide please call the U.S. National Suicide Prevention Lifeline at 800-273-8255, text TALK to 741741 or go to SpeakingOfSuicide.com/resources for additional resources.