A cold weather system is bringing snow to extremely low elevations and hail to other locations Thursday in Southern California.
Some of the coldest air in many years will enter the region Thursday and Friday. Frost advisories had already been issued for both days as of Wednesday night. Southern California could see its lowest snow levels since 2015, between 1,500 to 2,000 feet.
Snow is falling in the #CajonPass be careful if you are traveling on I-15 to and from the high desert. #NBC4@NBCLApic.twitter.com/CThPaxqX0T

— Tony Shin (@TonyNBCLA) February 21, 2019
"If you live in Palmdale, Lancaster, you might be seeing that," said NBC4 forecaster Shanna Mendiola.
Snow forced a full closure of the Grapevine section of the 5 Freeway Thursday afternoon. The route north of Los Angeles in the main connection between Southern California and the Central Valley. The route was reopened later in the day.
NewsChopper4 Tour: From Downtown LA to the Snowy San Gabriel Mountains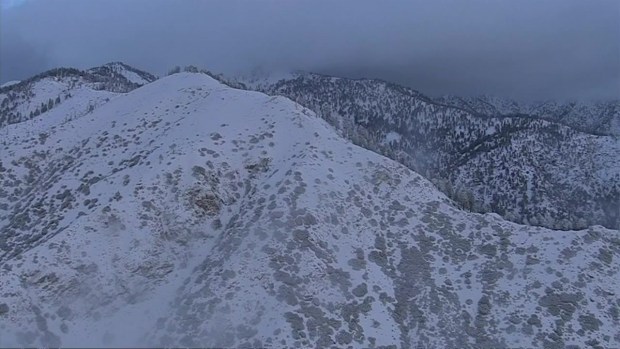 Hail was reported in Stevenson Ranch, Rancho Cucamonga and other communities early Thursday afternoon.
Viewers from Eagle Rock, Santa Clarita, Westlake Village and Agoura Hills all reported seeing the white stuff fall, with most saying it didn't have the hard crunch of hail.
The system originated in Alberta, Canada, and its route to California has been over land so there's been no opportunity for the relatively warm waters of the Pacific to modify the cold air mass.
Photos: Winter Storms Bring Days of Rain, Snow and Wind to Southern California
Precipitation will be variable, with showers, hail and dustings of snow as low as 1,500 feet for most of the region. Snow levels could fall below 1,000 feet in parts of the San Joaquin Valley, but with little to no accumulations.
Snow was falling in Palmdale Wednesday night at approximately 10 p.m. The Grapevine section of the 5 Freeway north of Los Angeles also had snow earlier in the night.
As of 1250hrs, snow is falling at the 1500' level in the Santa Monica Mountains above Malibu, CA. Roads will be slippery. Please drive safely! #LAweather@NWSLosAngeles@CHPWestValley@CaltransDist7pic.twitter.com/jrgxlGg4Vr

— LACoFireAirOps (@LACoFireAirOps) February 21, 2019
As a precaution due to the weather, the Big Bear Unified School District canceled school for Thursday, Feb. 21, 2019.
As for other locations, expect isolated showers.
"Not everyone will be seeing rain," said Mendiola. "If you do, it'll be a light shower."