The girl at the center of an Amber Alert issued Friday was found hours after the alert was issued while her mother was detained, California Highway Patrol said.
CHP was searching for 39-year-old Christina Lujan and her daughter, 3-year-old Josephine, across several counties in Southern California after the girl was allegedly taken by her mother.
The 3-year-old was last seen with her mother Dec. 27 around 1:50 p.m. in Garden Grove, according to authorities.
Garden Grove police said the mother had a custody visit with her daughter, and when the child's grandmother went inside the house and came back out, the two were gone.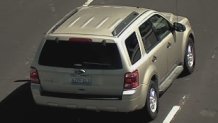 Authorities had said the mother should be considered armed and dangerous.