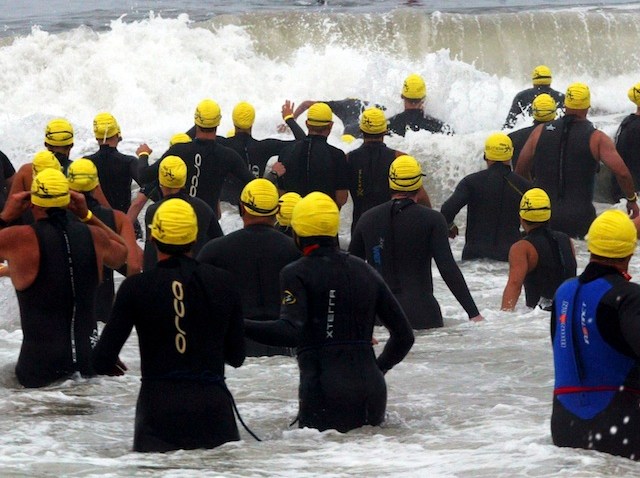 Two soap stars earned top honors in the celebirty division Sunday of the Nautica Malibu Triathlon.
"All My Children" star Alec Musser claimed the male celebrity title. Heather Tom of "The Bold and the Beautiful" won the female celebrity division.
Matthew McConaughey and Jennifer Lopez were among the other celebrity competitors in Sunday's Classic Distance triathlon. Felecity Huffman and husband William H. Macy, and Mario Lopez and Teri Hatcher also participated.

Sunday's Classic competition featured a half-mile ocean swim, an 18-mile "out-and-back" bike course and a 4-mile "out-and-back" run, Keane said. The race was scheduled to begin at 7:15 a.m.
Local
Local news from across Southern California
"Each year the Nautica Malibu Triathlon raises the bar a little bit higher," said Karen Murray, president of Nautica, in a statement. "We're thrilled to congratulate the winners but much more than that, we're truly excited and grateful for the opportunity to help the patients, families and researchers at Childrens Hospital Los Angeles who inspire us to swim, bike and run our hearts out every year."
Last year, the event raised more than $950,000 for the hospital's Pediatric Cancer Research Program.
A husband-and-wife duo won the overall competitions Sunday. Greg Bennet led the men with a time of 1:11:29.4. Wife Laura won the women's division with a time of 1:24:49.1.
Laura Bennett also won Saturday's Olympic Distance Nautica Malibu Triathlon.

Stuart Hayes, 30, of the United Kingdom, won the men's division Saturday.

Saturday's Olympic competition featured a 1.5-kilometer swim in the Pacific Ocean, a 40-kilometer bike course along the Pacific Coast Highway and a 10-kilometer run on pavement and blacktop along the sands of Zuma and Trancas beaches, said event spokesperson Liz Keane.

Athletes competed for cash prizes totaling $20,000, with the first place winner receiving $5,000; $2,500 for second place, $1,250 for third place, $750 for fourth place and $500 for fifth place.

"Those of us responsible for the Pediatric Cancer Research Program are very, very grateful for the generosity of all involved with the Nautica Malibu Triathlon and, together, we look toward a time in the future when research will conquer this horrific disease," said Dr. Stuart E. Siegel, director of the Childrens Center For Cancer and Blood Diseases at the Childrens Hospital Los Angeles.

http://www.athleteslounge.com/results.php?eventid=2626Event results will be available at www.nauticamalibutri.com.


Copyright Archive Sources