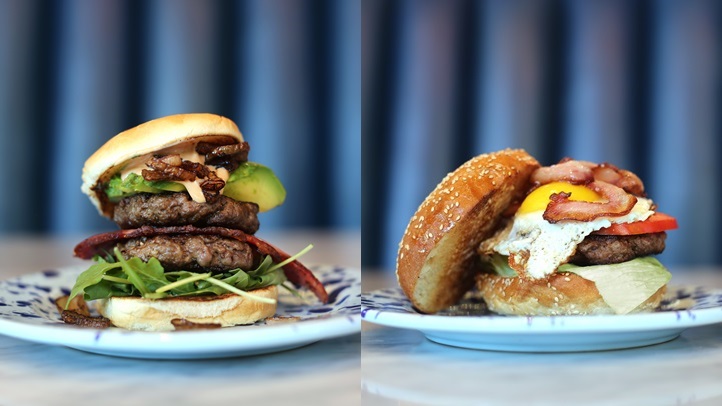 If you have swung by a local Belcampo Meat Co. for some succulent chops or that famous bone broth, you likely already know that the buzzed-about butchery has savory satellites far beyond Southern California.
You only need look to Northern California to find Belcampo in Marin County, where it was founded a few years back, and Palo Alto, and Russian Hill. It clearly is a company with a twinkle for both SoCal and NorCal, and a pair of limited-time burgers reflect some of the flavors found in both parts of the Golden State.
The primo patties, and their attending accoutrements, are available through the end of August 2016, for ten bucks (and that nets you fries, too).
Local
Local news from across Southern California
But what to try first? The SoCal or the NorCal? Or both in one fell (and fantastic) swoop?
The SoCal arrives with a pair of three-ounce patties (grass-fed, as is Belcampo's way), plus onion rings, some avocado, smoked ham, arugula, and hello there, kimchi aioli. It's a creamy-tangy combo that complements the smokiness of the ham and sheer heartiness of the double-down patty situation.
The NorCal is a larger patty at 5.5 ounces, and it is a "bacon beef grind." As appetite-stoking as that is, the fried egg atop the patty is the main eye-catcher, while Sriracha aioli adds some fuego to the enterprise. Lettuce and tomato are at the ready to cool the palate back down.
While some might see these two special offerings going toe-to-toe for Californians' taste buds, we'll just bet that many a burger finds fans in both the Bay Area and LA (where you can find Belcampos downtown, on West Third, and in Santa Monica).
If you love both redwoods and palm trees, and you dig both Ghirardelli chocolates and desert-style date shakes, you just might find yourself rhapsodizing about both the SoCal and NorCal burgers at Belcampo, wherever you happen to call home.
The flavors of California rule the school, or, in this case, the patty and bun. Try both, or whatever one you like, for a tenner, before August wraps.
Copyright FREEL - NBC Local Media