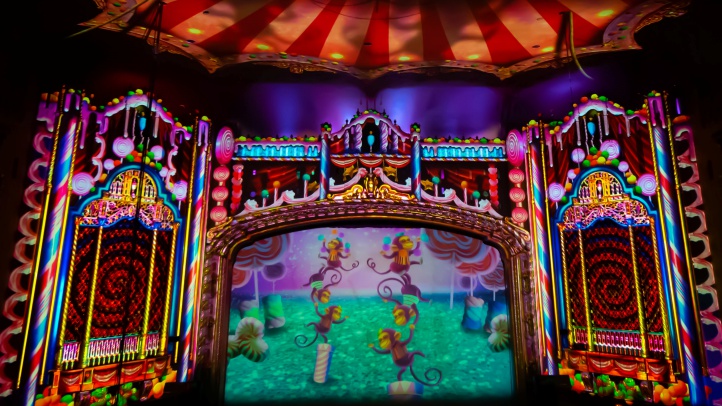 STARRING IN A FAB PHOTO... that you yourself snapped? In Monterey? It's likely happened, if you've ever wanted to pose in front of the famous sardines of the Monterey Bay Aquarium, or if you wanted to show a friend that you were at Old Fisherman's Wharf. There's nothing to compare to a quick pose by a well-known landmark to say "I'm in Monterey!" and many visitors have taken the opportunity to selfie-it-up, around town, all to capture the experience. But what if the experience was very much about the art of the selfie? And the backdrops and pose-ready spots were fully geared to assist selfie takers? You'd probably be at a place called...
SELFIEVILLE: And there is such a place, in Monterey, or will be as of Saturday, Feb. 2. If you know the downtown area of the burg, then you for sure know the Golden State Theatre, which will mark its centennial in under a decade. Head upstairs and you'll enter the brand-new world of Selfieville, an "Experiential Museum" full of snazzy locations full of picture-taking pow. Numerous "fantasy worlds" will lend the wander-through, snap-a-pic place flavor, as will a "state-of-the-art 3-D light show." Themes? They'll change as you proceed, but what won't change is the chance to stop and pose. A ticket is $25 for an adult and $12.50 for children between the ages of 2 and 12.
FUNDRAISING FUN: Selfieville has committed to donating a quarter of its annual net proceeds to help "... support local non-profits that work with foster children in California, including Kinship and Pivotal (formerly the Silicon Valley Children's Fund). Keep in mind that the attraction's hours could be impacted by events in the Golden State Theatre, so just check ahead before you power up your camera, don your favorite selfie style, and go.
Copyright FREEL - NBC Local Media