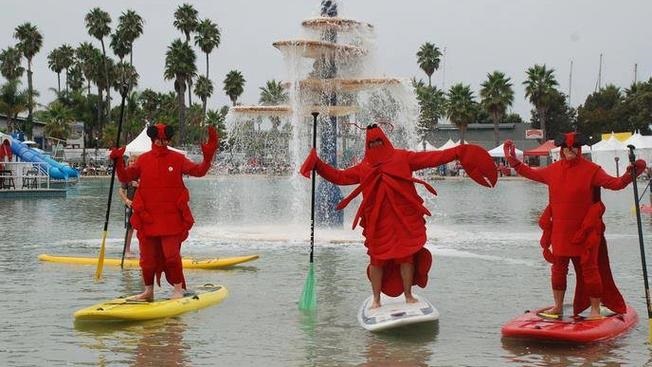 One of the calendar's most charming quirks isn't the fact that some months have 31 days, and some have 30, and some one has 28; it's that there are so many sayings and rhymes that are associated with particular times of the year.
Chestnuts like "in like a lion, out like a lamb" for March and "thirty days hath September" help us keep track of our days, but there's no rhyme for the end of lobster festival season around Southern California. It arrives at the very start of fall, and whoosh! The buttery, bib-wearing weekends are done.
While someone gets to work on dreaming up a seasonally appropriate rhyme, lobster lovers can make for Seaside Lagoon, where the annual Redondo Beach Lobster Festival begins to round the stretch of festivals out. The Port of LA, and Newport Beach, and Long Beach are now done for 2016 on the lobster party front, but Redondo Beach is ready for some lobster & steak dinners.
Local
Local news from across Southern California
Accompaniments include "buttered and herbed red potatoes, buttery dipping sauce, cole slaw, and a roll," and there are a trio of meals to choose from, so browse all.
The dates? Friday, Sept. 23 through Sunday, Sept. 25. The non-buttery doings? There shall be bands, like a Beatles-y, Stones-y showdown on Sept. 23, and there shall be an appearance by Ambrosia, the hit-making outfit behind the sublime "Biggest Part of Me" and oodles of other great tunes (they'll be at the fest on Sept. 25). More bands are on the schedule, and more chances to dance, listen, chillax, repeat.
Tickets and such? Here. Thinking up a rhyme to signify the end of lobster festival season around Los Angeles? Well, not really necessary, we suppose, if you keep in mind that the autumn equinox usually is a pretty clear reminder to get out and fest it up, if that's your jam.
Not jam, but rather, your buttery dip.
Copyright FREEL - NBC Local Media