Officials intend to announce Monday plans for a transportation boarding school on a dusty, trash-strewn lot in South Los Angeles that has sat vacant for more than two decades.
The school would offer a vocational and college-preparatory curriculum tailored to train students for jobs in the transportation industry, the Los Angeles Times reported. Officials say some could find work with the Metropolitan Transportation Authority or local contractors after graduation; others could go on to college to study engineering, architecture or urban planning.
"We're charting new territory," said Los Angeles County Supervisor Mark Ridley-Thomas, a Metro director, in remarks quoted by The Times. The school, he said, "will build communities, will build future riders, will build future transportation employees."
Plans for the MTA transportation school will be announced late Monday morning by Ridley-Thomas, L.A. Mayor Eric Garcetti, Councilman Marqueese Harris-Dawson and Metropolitan Transportation Authority CEO Phil Washington, according to Garcetti's Office.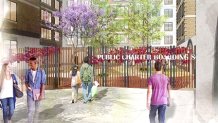 Though the proposal is in its infancy, it has sparked resistance from some South L.A. residents who say the neighborhood needs more sit-down restaurants, grocery stores and retail space -- not a boarding school.
The 4.2-acre site at Vermont and Manchester avenues, where the school would be built, has been vacant since the 1992 Los Angeles riots, when a swap meet was torched and burned to the ground. Since then, the land has been caught in a tug-of-war between politicians and residents who disagree on what should be built there to address blight, according to The Times.
Local
Get Los Angeles's latest local news on crime, entertainment, weather, schools, COVID, cost of living and more. Here's your go-to source for today's LA news.
Los Angeles County won ownership of the lot through eminent domain in April. The boarding school is a key piece of the county's development plan, along with apartments, a job training center, a plaza for transit riders on Vermont, and 50,000 square feet of retail space, including a grocery store.
But the proposal does not include the sit-down restaurants, coffee shops and retail spaces that local residents need, said Elisa McGhee, who lives in Vermont Vista, a mile and a half south of the site.
"This is not the best thing for our community," McGhee told The Times. "Building this school will not attract the retail that's needed here."
She also questioned why Metro and the county would build a new school in South L.A., when struggling high schools nearby would welcome the funding and support.
Some schools in Los Angeles offer magnet programs for science and technology, and others offer vocational training, but no one school offers them in combination with a focus on the transportation industry, Joanne Peterson, Metro's head of human resources, said in comments reported by The Times.
The Board of Supervisors is expected to vote this week on an exclusive negotiating agreement with the nonprofit SEED Foundation, which runs public boarding schools, to develop more detailed plans for the L.A. school's construction and operation. The foundation would also apply for a charter with the Los Angeles County Office of Education.
About 400 students in sixth through 12th grade could attend the school, staying on campus during the week and returning home on weekends, said Ridley-Thomas deputy Karly Katona. Room and board would be free. The school could open as soon as early as the fall of 2020, she said, according to The Times.