After much anticipation, the new Expo light rail line is expected to open to the public this weekend and officials on Friday were planning an official dedication ceremony.
The line is an 8.6 mile link from downtown Los Angeles to USC and La Cienega/Jefferson via Exposition Boulevard.
The line begins at the 7th Street Metro Center Station, a joint station serving the popular Metro Red, Purple and Blue lines.
Together, these lines crisscross the region making connections with the Eastside, Long Beach, Redondo Beach, Norwalk, Hollywood, North Hollywood, Pasadena and the San Fernando Valley.
This opening will bring the Metro Rail system to 87 miles of rail.
The Expo Line is the first phase of a line that connects downtown to the Westside of LA.
The rail line is scheduled to extend to Culver City by mid summer and then to Santa Monica within four years.
Officials expect about 27,000 daily boardings and planners believe the $930 million line could be one of the heaviest used in the nation.
Opening-weekend service will be limited from 5 a.m. to 7 p.m. After that, normal operating hours will be from 5 a.m. to 12:30 a.m. Regular fare fees for the Expo Line will resume after opening weekend.
Expo Line station stops will be open near the following intersections:
Seventh and Figueroa streets (shared with Blue Line)
Pico Boulevard and Flower Street (shared with Blue Line)
23rd and Flower streets
Jefferson Boulevard and Flower Street
Figueroa Street and Exposition Boulevard
Vermont Avenue and Exposition Boulevard
Western Avenue and Exposition Boulevard
Crenshaw and Exposition boulevards
La Brea Avenue and Exposition Boulevard
La Cienega and Jefferson boulevards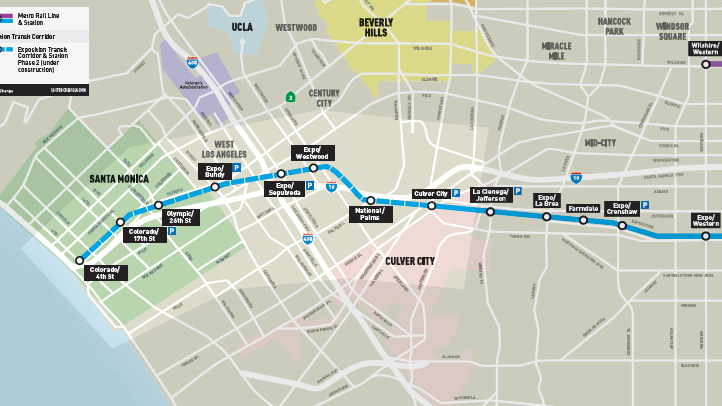 Follow NBCLA for the latest LA news, events and entertainment: iPhone/iPad App | Facebook | Twitter | Google+ | Instagram | RSS | Text Alerts | Email Alerts