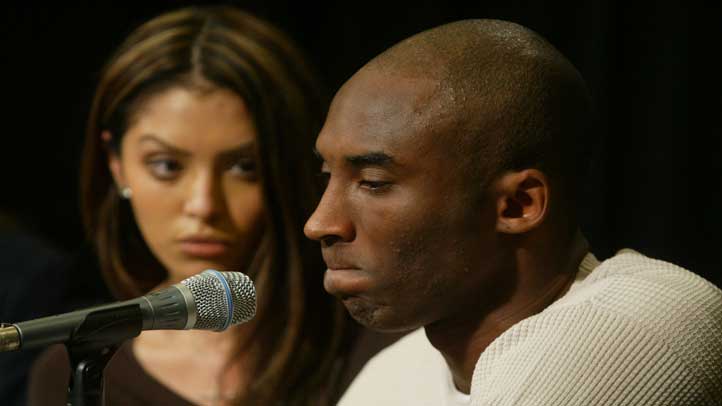 Apology speeches are best when they actually include an apology.
Instead, we often get a list of people who were hurt (anybody who was offended) and another list detailing excuses (wide stance) for the action, followed by a lot of requests for forgiveness. By the end of the speech, the transgression becomes a sideshow to the apology.
The latest chapters in the never-ending saga of apologies (and/or nonapologies) was a statement from Kobe Bryant after uttering a homophobic slur during a game. On Tuesday, former Gov. Arnold Schwarzenegger, in a statement regarding his relationship with a member of his household staff, simply said, "I have apologized to Maria, my children and my family."
Local
Local news from across Southern California
And with that, it's time to look back at some of the all-time greatest moments in apologizing history.
If we've left somebody off our list of 10 famous apologies and nonapologies, we apologize. Please, let us know whose apology you'd add in the comments area below.
Bill Clinton's Prayer Breakfast Apology (1998): "It is important to me that everybody who has been hurt know that the sorrow I feel is genuine: First and most important, my family; also my friends, my staff, my Cabinet, Monica Lewinsky and her family, and the American people. I have asked all for their forgiveness." Full Audio/Text
Jimmy Swaggart Begs Forgiveness, Repeatedly (1998): "I do not plan in any way to whitewash my sin. I do not call it a mistake, a mendacity; I call it sin. I would much rather, if possible -- and in my estimation it would not be possible -- to make it worse than less than it actually is. I have no one but myself to blame. I do not lay the fault or the blame of the charge at anyone else's feet. For no one is to blame but Jimmy Swaggart. I take the responsibility. I take the blame. I take the fault." Note: The tears come at about one minute in on the video below.
Kobe Bryant's Apology to Wife, Vanessa (2003): "You're my backbone. You're a blessing. You're a piece of my heart. You're the air I breathe. And you're the strongest person I know, and I'm so sorry for having to put you through this and having to put our family through this." Note: Apologies are better when they come with a ring the size of a basketball. Full Video
Mel Gibson After Anti-Semitic Tirade (2006): "There is no excuse, nor should there be any tolerance, for anyone who thinks or expresses any kind of anti-Semitic remark. I want to apologize specifically to everyone in the Jewish community for the vitriolic and harmful words that I said to a law enforcement officer the night I was arrested on a DUI charge." Full Text
Rev. Ted Haggard's "Sexual Immorality" Letter (2006): "I am so sorry. I am sorry for the disappointment, the betrayal, and the hurt. I am sorry for the horrible example I have set for you... But I alone am responsible for the confusion caused by my inconsistent statements. The fact is, I am guilty of sexual immorality, and I take responsibility for the entire problem. I am a deceiver and a liar. There is a part of my life that is so repulsive and dark that I've been warring against it all of my adult life." Full Text
Actor Michael Richards on Racist Rant (2006): "You know, I'm really busted up over this and I'm very, very sorry to those people in the audience, the blacks, the Hispanics, whites -- everyone that was there that took the brunt of that anger and hate and rage and how it came through, and I'm concerned about more hate and more rage and more anger coming through, not just towards me but towards a black/white conflict."
Olympian Marion Jones After Steroids Case (2007): "I recognize that by saying that I'm deeply sorry, it might not be enough and sufficient to address the pain and the hurt that I have caused you. Therefore, I want to ask for your forgiveness for my actions, and I hope you can find it in your heart to forgive me." Full Text
Let Sen. Larry Craig Be Clear (2007): "First, please let me apologize to my family, friends, staff and fellow Idahoans for the cloud placed over Idaho. I did nothing wrong at the Minneapolis airport. I regret my decision to plead guilty and the sadness that decision has brought to my wife, family, friends, staff, and fellow Idahoans. For that I apologize... Let me be clear. I am not gay and never have been." Note: What?
Then-Gov. Eliot Spitzer Apologizes to Every New Yorker (2008): "I have acted in a way that violates my obligations to my family and that violates my -- or any -- sense of right and wrong. I apologize first, and most importantly, to my family. I apologize to the public, whom I promised better." Full Video
Tiger Woods' Neverending Apology (2010): "I want to say to each of you, simply, and directly, I am deeply sorry for my irresponsible and selfish behavior I engaged in." Note: And it goes on like this for 13 minutes. Full Video