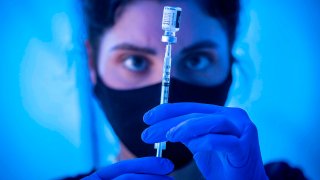 Hawthorne-based aerospace company SpaceX is home to Los Angeles County's largest active outbreak of COVID-19 cases in non-residential settings, with 132 infections, according to public health data.
There was no immediate information available on the nature of the outbreak, which was listed on the county Department of Public Health website and first reported by the Los Angeles Times. The Times, citing court documents, reported an estimated 5,972 employees were working at the site as of May.
With 132 cases, the outbreak is easily the largest being reported by the county. The second-biggest outbreak is at a FedEx facility in the 5900 block of West Imperial Highway, where 85 cases have been confirmed.
A Northrop Grumman facility is Palmdale has 33 cases. The county considers an outbreak to be three or more linked cases at a single location. The county is currently reporting 37 outbreaks in non- residential settings.
In a message sent to employees in Hawthorne, SpaceX said of the 132 reported cases, one case was suspected to have occurred at work.
"In September, several employees who work in the same area contracted COVID outside of work at a non-work-related event," the company said in its message to employees. "Because SpaceX has worked diligently to ensure testing is available to all employees, and have encouraged employees to get tested at work, these employees received COVID tests in Hawthorne, which triggered SpaceX to report these positive cases to LACDPH.
"Of the 132 reported 'outbreak' cases, only one case was suspected to have occurred at work. 132 is also the aggregate number of cases reported since the September case described above, and that number includes employees who may have been on vacation for several weeks, returned to work and received a COVID test at SpaceX that turned out positive. Again, it does not mean 132 employees in Hawthorne have COVID today or contracted it in the workplace."
Los Angeles County's dramatic rise in COVID-19 infections continued Monday, with more than 3,200 new cases reported, along with seven more deaths and 60 new instances of the rapidly spreading Omicron variant.
And the numbers are likely an under-reporting, due to typical weekend information delays, according to the county Department of Public Health.
The county reported 3,258 new COVID infections on Monday, the fourth day in a row the number has topped 3,000. Since the pandemic began, a total of 1,567,133 cases have been confirmed in the county.
The seven new deaths reported Monday lifted the county's cumulative death toll to 27,448.
According to state figures, there were 741 COVID-positive patients inLos Angeles County hospitals as of Monday, down from 743 on Sunday. There were 172 of those patients being treated in intensive care, down from 180 a day earlier.
Copyright CNS - City News Service