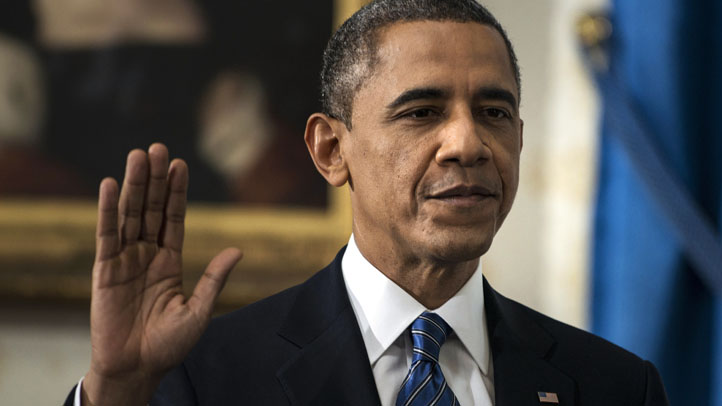 A myriad of inauguration-watching parties and civic improvement events will take place across Southern California on Monday, both to honor the Rev. Martin Luther King and to watch Barack Obama take his public oath of office.
At downtown Civic Center Grand Park, hip hop artists will weave quotes from King's "I Have A Dream Speech'' into rap music, as they celebrate both the inauguration and the holiday honoring Dr. King's life and works.
The "Hail to the Chiefs'' event will include concerts from several contemporary bands and food vendors from the popular City Hall farmers market. Attendees will be able to write in a giant, collective letter to the president, which will be posted in the park, just west of City Hall.
Local
Local news from across Southern California
Many civic groups are combining the inauguration, the King holiday, and the a day off to labor on works of civic improvement.
About 1,000 volunteers will beautify the campus of Belmont High School. The 8:45 a.m. event is organized by City Year, a nonprofit that partners with public schools to help students stay on track to graduate.
It will include LAUSD board president Monica Garcia and 275 Americorps members.
Volunteer clean-up activities will also be under way all day in Long Beach, including harvesting fruit from residential trees to benefit food banks in the West Long Beach area.
Large murals will be painted starting at 9 a.m. at Bennett-Kew Elementary School in Inglewood.
In Exposition Park, the California African American Museum will screen the documentary "King: Man of Peace in a Time of War.'' Speed painter Zachary Brown will be on site to paint portraits of King.
At Venice Beach at noon, organizers said an "informal ocean ceremony'' will include drums and round dancing on the sand.
The Museum of Tolerance, near Beverly Hills, will screen "The Memphis 13,'' which recounts the October day in 1961 that 13 black first graders broke the color lines and entered four all-white elementary schools.
Following the screening, a video-conference conversation will be held with director/producer Daniel Kiel, a law professor at the University of Memphis, and several students featured in the film.
Copyright CNS - City News Service