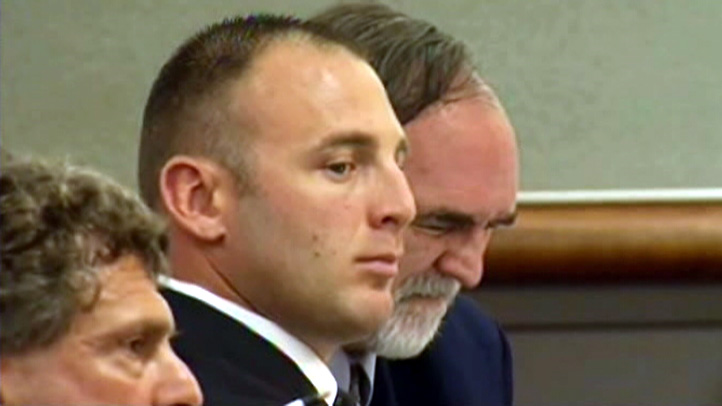 A Los Angeles school police officer convicted of lying about being shot by a burglary suspect near El Camino Real High School in Woodland Hills will pay $309,000 in restitution to the city of LA, officials said Monday.
Jeffrey Stenroos agreed to the amount during a court hearing on Monday. In exchange for the restitution agreement, the judge reduced Stenroos' bail to $1,000, said Sandi Gibbons, a spokeswoman for the Los Angeles County District Attorney's Office.
Stenroos claimed a car burglar shot him once in the chest during a confrontation Jan. 19, 2011 outside El Camino Real High School.
Local
Local news from across Southern California
His bogus claim set off 10-hour manhunt that shut down streets in the west San Fernando Valley, caused massive traffic jams and prompted the lockdown of nine schools while 500 officers searched for a gunman who didn't exist.
About a week later, police began noting "inconsistencies" in Stenroos' story and determined that he made the whole thing up.
He was arrested Jan. 27 and convicted more than seven months later on felony counts of insurance fraud, workers' compensation fraud, preparing false documentary evidence and planting false evidence.
He was sentenced in December to a five-year jail term and 400 hours of community service. He is expected to appear in court again on April 18.
Despite the police investigation and the information uncovered at trial, Stenroos' motives and key details about the events that led to the hoax remain unclear.
Prosecutors said Stenroos staged the shooting to gain media attention and time off with pay. Defense attorneys argued that the shooting was not staged, but was an "accidental discharge."
Follow NBCLA for the latest LA news, events and entertainment: iPhone/iPad App | Facebook | Twitter | Google+ | Instagram | RSS | Text Alerts | Email Alerts