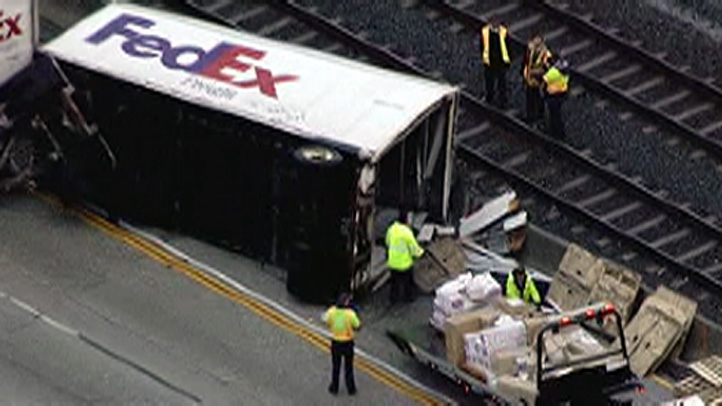 Several spin-outs and other traffic problems were reported early Wednesday, including a FedEx truck crash in Pasadena that blocked lanes on the eastbound 210 Freeway.
Four lanes were blocked on the 210 Freeway east near Sierra Madre Boulevard because of the overturned truck. Delivery boxes were scattered on the road during a rainy morning drive after a storm system moved down the coast and arrived in Southern California early Wednesday.
The storm is expected to bring rain throughout the morning before showers taper off during the afternoon.

Traffic Page | Weather Page

Local
Local news from across Southern California
At 5:30 a.m., rain totals measured 0.59 inches at LAX, 0.70 inches in downtown LA and 0.95 inches in Agoura Hills. More than one inch of rain was reported in some parts of Ventura County.
The storm was sweeping across the Inland Empire and Orange County at about 6:15 a.m. More showers are possible later Wednesday afternoon.

"The heaviest of the wet weather has come to an end," said NBC4 forecaster Elita Loresca.

Winter weather and wind advisories will remain in effect Wednesday night for mountain and desert areas, and a second storm system is expected to arrive Friday.
Follow NBCLA for the latest LA news, events and entertainment: iPhone/iPad App | Facebook | Twitter | Google+ | Instagram | RSS | Text Alerts | Email Alerts