Officers and a police dog boarded a plane to investigate a threat that was later determined to be "non-credible" Tuesday morning after the jet landed at Los Angeles International Airport, according to airport police.
Airport police Officer Rob Pedregon told The Associated Press the Transportation Security Administration received a phone call Tuesday about a possible threat to Compass Air Flight 5931, which departed from Houston Tuesday morning and arrived in Los Angeles at 8:43 a.m. The plane was marked as American Eagle.
American Airlines confirmed the flight received a "non-credible threat." An investigation will be conducted to identify the person or group behind the threat, according to the FBI.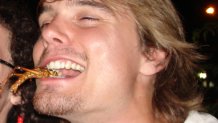 Passengers were screened as they walked off an exit staircase and onto the tarmac. Passengers said they learned of the threat after they landed.
"Out of an abundance of caution, LAX authorities are screening the flight," the airline said in an email. "We hope to have our passengers on their way soon."
Aerial video showed several law enforcement and fire department vehicles near the plane with an armored police vehicle positioned behind the jet.
Passengers remained on board during most of the investigation, conducted in a remote part of the airport. Officers in tactical gear and a K-9 boarded the plane at about 9:30 a.m. and passengers exited the plane a short time later.
Earlier Tuesday, another threat was phoned in to the same airport in Houston. Passengers exited and baggage was removed from the Delta flight, and authorities determined there was no safety threat.