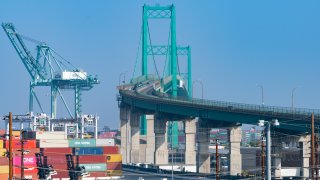 The Vincent Thomas Bridge was closed in both directions for most of Saturday, as a man perched on the structure finally voluntarily descended from his perch around 2 p.m., authorities said.
A 59-year-old West Covina man was cited for trespassing and released after climbing atop the bridge and staying there for some 31 hours, shutting down the bridge to traffic.
The CHP tweeted that the bridge was open again at 3:30 p.m. Saturday.
The California Highway Patrol was made aware of the man's presence at 6:31 a.m. Friday.
Brian Kevin Thomas came down about 1:15 p.m. from a bridge support beam about 350 feet above the roadway, according to a California Highway Patrol press release.
The bridge, which crosses the Los Angeles Harbor and links San Pedro with Terminal Island, was closed between Ferry Street and Harbor Boulevard.
Caltrans tweeted at 10:45 a.m. Saturday that the bridge remained "closed in both directions until further notice due to emergency activity."
By 2 p.m., the man had descended from the bridge, after a total 31 hours. It was unknown whether the man would be cited or arrested, the CHP said.
Copyright CNS - City News Service