There's a disturbing trend that needs to be stopped. Or, at least, slowed down, so traditionalists like me can keep up. It's the progressively more oddball cupcake flavor.
I'm talking about stuff like this.
This, my friends, is a maple bacon cupcake. I mean, I get it ... maple syrup running into the bacon on your plate at breakfast; it's kind of contrary-like unexpectedly delicious. And doesn't bacon make everything better? Well, YES! Okay ... if there were no alternatives, I'd eat one.
But a nice chocolate cupcake with fluffy white frosting? Or a vanilla cupcake with sprinkles? Wins every time, at least for me. I think that when the freakshow flavors start popping up on everyday things, you know that particular thing has reached cult-craze status (example: the Buttered Popcorn flavor Jelly Belly.) Or, it has jumped the shark (same example.)
I'm a baker. I love to bake anything and everything, but I can spend years testing different recipes for plain old chocolate. I've baked two batches in the last week for co-workers celebrating birthdays ... The all-time favorite cream filled, Hostess knockoffs: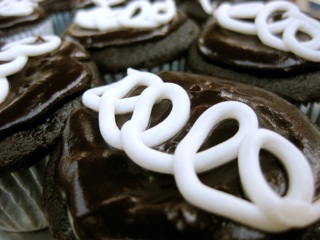 And -- this is as kooky as I get, the carrot cake cupcake with marshmallow fluff:
But this disturbing trend of blecky sounding cupcakes was brought back to my attention by Kim Baldonado, who sent me this cupcake-cookoff story out of the LA Times.
Local
Get Los Angeles's latest local news on crime, entertainment, weather, schools, COVID, cost of living and more. Here's your go-to source for today's LA news.
After losing myself in the LA cupcake Google map, I started reading about the entries into this 2009 Los Angeles Cupcake Challenge. Please don't write to me and say I have to try them before I judge ... I know this. But given the chance for a plain old chocolate cupcake and a pineapple and pistachio "Paradise Cupcake," I'm going with chocolate.
In fact, this is how the article starts, with a quote from Sugar Jones' proprieter, who won last year's contest:
"Precious McCall would be the first person to admit that her award-winning Paradise Cupcake doesn't sound very appealing. It's a bubble of bright orange, mandarin-flavored cake filled with whipped pineapple cream then frosted with vivid green pistachio pudding and garnished with coconut.

"People are afraid of it because the flavors are so unusual," McCall says. "I have to force it on them, and then they're like, 'Oh, my God, what is this?' It really doesn't matter if you don't like coconut or pistachio. Once I get people to try it, they love it."
I guess it's the kind of thing that you may think, "meh, that's all right" the first time you try it, because you don't know what to expect and, therefore, anticipate -- but then a few days later find yourself with a voracious craving for -- for EXACTLY that thing and nothing else will do -- because nothing else you've ever had is quite like it.
Do I sound like I'm talking myself into this? I may be. I searched around for weird cupcake recipes and actually found myself more intrigued than revolted. I have a few ideas of my own. For one, a twist on the topping for my favorite carrot cake cupcakes ... why not torch the marshmallow fluff a little, like this cupcake from "More" in Chicago:
And I'm dying to try the Guinness Cupcakes; the stout gives the chocolate cake great flavor and texture (recipe here.) It's on the blogspot I heart cupcakes ... and one writer echoes my concerns: "What is this messing about with cupcakes in aid of?? Figs and blue cheese? Peanut butter frosting with bacon? They're just not making my mouth water like a good old vanilla cupcake!"
And as I was searching our own database for different types of cake, another file came up that I entered myself a day or two ago. Oh yes, the MEAT CAKE is back ..
Why not make cupcakes out of meatloaf and pipe mashed potatoes on top? Cupcakes for dinner! Perfect.
Of course, there's a story about the economy in everything these days, and the proliferation of high-end cupcake shops has people wondering when that bubble will burst. In the LA Times story:
If we are on the brink of a recession-driven "cupcake backlash," it hasn't hit Los Angeles, the epicenter of the upscale cupcake trend. "I'm not sure you can sustain a business on $4 cupcakes," Silberstein says, "but I haven't been to a bakery in the last six months where there weren't people buying cupcakes."
There's a story about that on MSN Money news too that I ran across last week. Flourishing cupcake shops is one of five clues, they say, right behind rising indexes and cardboard demand, that the recession is coming to an end:
And people are still lining up for cupcakes at New York City's Magnolia Bakery. The bakery, which recently opened two more stores, has seen sales of its $2.50 cupcakes continually rise. Strong sales of small indulgences demonstrate Americans still like to treat themselves and may soon be ready to move on to bigger treats."
I'm not sure small indulgences like cupcakes signal our money troubles are winding down. To the contrary, wasn't that saying, "let them eat cake," all about not being able to afford bread?