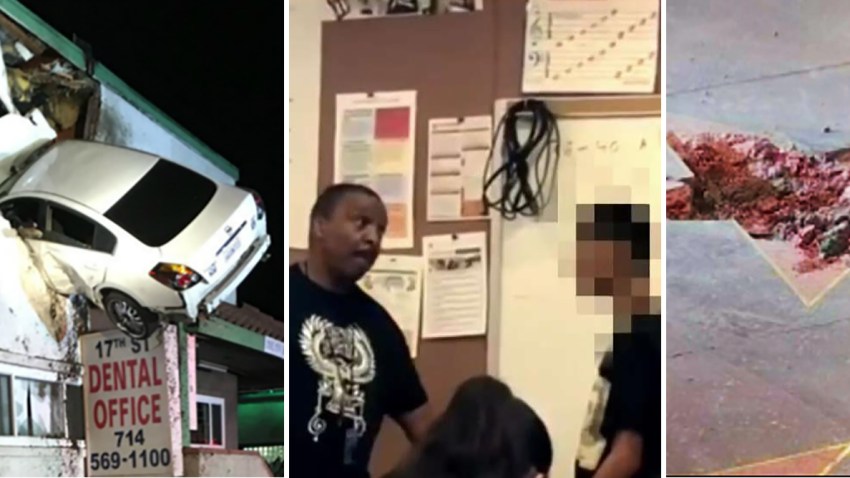 Over the course of 2018, a lot has happened, from intense wildfires to the Olympics. We present to you the videos at NBC4 that you watched the most.
Here's what caught your interest the most in 2018:
Teacher Caught on Camera Punching Student in Maywood Classroom
Local
Local news from across Southern California
A 64-year-old teacher was jailed after a fight with a 14-year-old student in a classroom at an alternative high school in Maywood Nov. 5, 2018. Video showed the teacher slugging it out with the student as other students and a woman wearing a yellow safety vest try to intervene. The video led to huge outcry in support of the teacher, but some also were upset that a teacher would lose his cool and physically harm a student.
Pickax-Wielding Vandal Smashes President Trump's Hollywood Walk of Fame Star to Pieces
One of the most shocking stunts pulled in Hollywood this year involved a man taking a pickax to President Donald Trump's Walk of Fame star July 25, 2018.
Witnesses say the man, who was later prosecuted, concealed it in a guitar case before TMZ captured the mayhem on video. Trump received the star in January 2007 for his role in the NBC show "The Apprentice."
Student's Cellphone Video Captures School Shooting
One of the most chilling videos of 2018 was footage captured by a high school student hiding under a desk while students screamed and gunfire erupted at Marjory Stoneman Douglas High School in Parkland, Florida Feb. 14, 2018. Seventeen in all were killed.
Woman Says Walmart Locked African American Hair Products Behind Glass
Walmart was set to face a discrimination lawsuit Jan. 26, 2018 after a woman claimed African American hair products were locked behind glass at a California store. Prominent attorney Gloria Allred held an afternoon news conference with Essie Grundy, who said she was discriminated against based on her race at a Walmart located at 1800 N. Perris Blvd. in Perris on Jan. 12.
"It was something I had to stand up for," the mom said.
Winds Subside, Giving Firefighters a Narrow Window of Calm
Multiple fires erupted in November of 2018, leaving more than 100,000 acres scorched, 177 structures destroyed, and left more than 250,000 people without a home as they fled amid evacuation warnings. Three people were killed in the Ventura and LA counties blaze.
Father Arrested in Case of Child Abuse Caught on Camera
Warning: The video below contains disturbing images.
Security camera video released July 10, 2018 that showed a man dropping, throwing and slinging a child outside a Riverside home led to the arrest of the boy's father.
In the video captured July 5, the father can be seen arguing with a woman identified as the man's girlfriend, according to police. He is seen holding the young child -- police said the boy is 18 months old -- and speaking to the woman before dropping him.
Speeding Car Goes Airborne, Plows Into Second Floor of Building
This one was a doozy.
In a feat that almost seems impossible, or as if it's straight out of a "Fast and the Furious" film, a car wound up on the second floor of a dental office in Orange County after hitting a median on the street. The crash happened around 5:25 a.m. near the intersection of French and 17th streets in Santa Ana, and it caught fire after it went into the building.