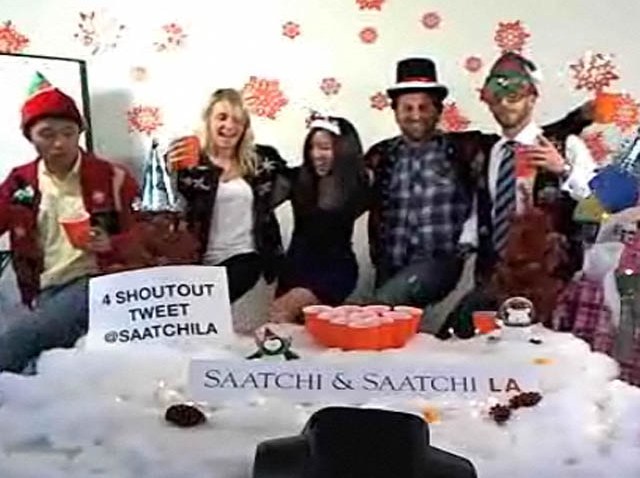 An advertising agency in the South Bay has managed to combine a few of our favorite things: beer pong, eggnog and a webcam.
Oh, and did we mention the remote-controlled ping-pong ball cannon?
Saatchi & Saatchi LA has set up nogpong.com, which is exactly what it sounds like.
Local
Local news from across Southern California
Via the website, users aim the ping-pong cannon, while adjusting a sliding power bar. Click the "fire" button and a ball is launched toward a stack of cups.
Sink a shot, and the festively dressed employees enjoy another "nogging."
"Saatchi & Saatchi Los Angeles doesn't like the traditional approach to anything, including the holidays. So instead of having a passive holiday card, Saatchi LA teamed up with Deep Local ... to create an interactive, robot-powered, eggnog-fuelled drinking game," according to a news release.
As of 1 p.m. Thursday, there have been 884 shots made out of 4,500 attempts. Those numbers are continuing to rise.
According to the agency's website, guests can play as often as they'd like from 11 a.m. to 7 p.m. -- although, you may have to wait a while. The average wait time on Thursday afternoon appeared to be about an hour.
Don't worry though. The Saatchi people will keep you entertained while you wait your turn. There's cheering, dancing and plenty of Christmas sweaters. The noggers, who seem to rotate throughout the day, even managed to introduce some light dance choreography.
And if you think the waiting is exciting, wait until someone (hopefully you) makes a shot.
The eggnog-fueled crowd goes wild.
Rightfully so -- every cup sank ups the amount of money donated to one of three non-profit charities: the Amanda Foundation, Free Arts for Abused Children and New Directions.
The site's last official day online is Friday, so get your nogpong on while there's still time.