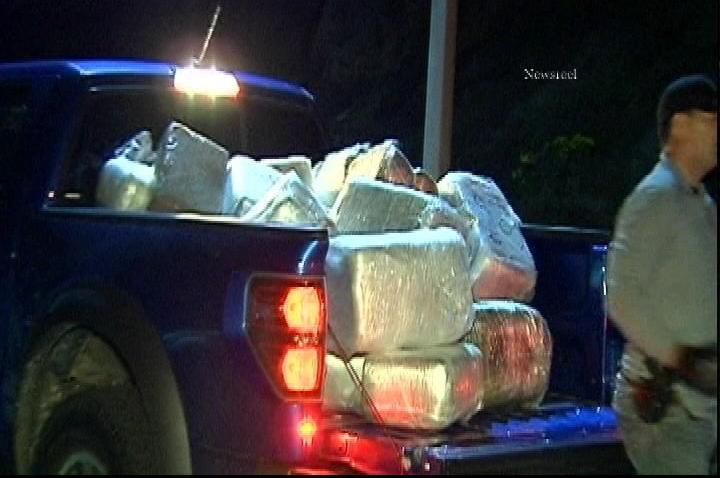 Police called off a search on Saturday for a suspected pot smuggler who is believed to have washed ashore in Malibu in a Mexican boat and disappeared in Point Dume State Preserve.
Police had cordoned the point near Birdview Avenue and Cliffside Drive early Saturday. Authorities had been searching for a man who is believed to have hopped out of a pot-laded panga that was found washed up at "Smugglers Cove," which lies at the northern tip of the Santa Monica Bay.
Police seized about 1,500 pounds of pot from the boat, and arrested three men in connection with the discovery, after 10 p.m. Friday.
Local
Local news from across Southern California
One man was believed to have run into the hills near Birdview and Cliffside.
The U.S. Coast Guard spotted the panga, a Mexican fishing boat, typically 30 feet in length and with one or two outboard motors, said Immigrations and Customs Enforcement spokeswoman Lori Haley.
The men were taken to an undisclosed location and interrogated by federal ICE investigators. They are expected in a federal courtroom on Monday to face smuggling charges, Haley said.
In recent years, authorities have seen a jump in the number of so-called maritime smuggling incidents further north along Southern California's coast as the perpetrators try to evade stepped up security along the U.S.-Mexican border.
So far in fiscal 2012, authorities have recorded at least 10 such incidents in Southern California, including at least two in Ventura County and at least one in Santa Barbara County. That compares with 26 incidents for all of fiscal 2011, including seven in Ventura County.
Follow NBCLA for the latest LA news, events and entertainment: Twitter: @NBCLA // Facebook: NBCLA