When you climb into a taxi in Los Angeles - or even your personal vehicle - do you assume you're safe? Maybe you shouldn't.

The NBC4 I-Team found dangerous open safety recalls affecting vehicles across Southern California, and many drivers we spoke with had no idea.
Trouble With Taxis
Local
Local news from across Southern California
"I've taken a lot of taxis and I personally don't have any problems or concerns about safety," said one passenger at Los Angeles International Airport.
But, maybe she should.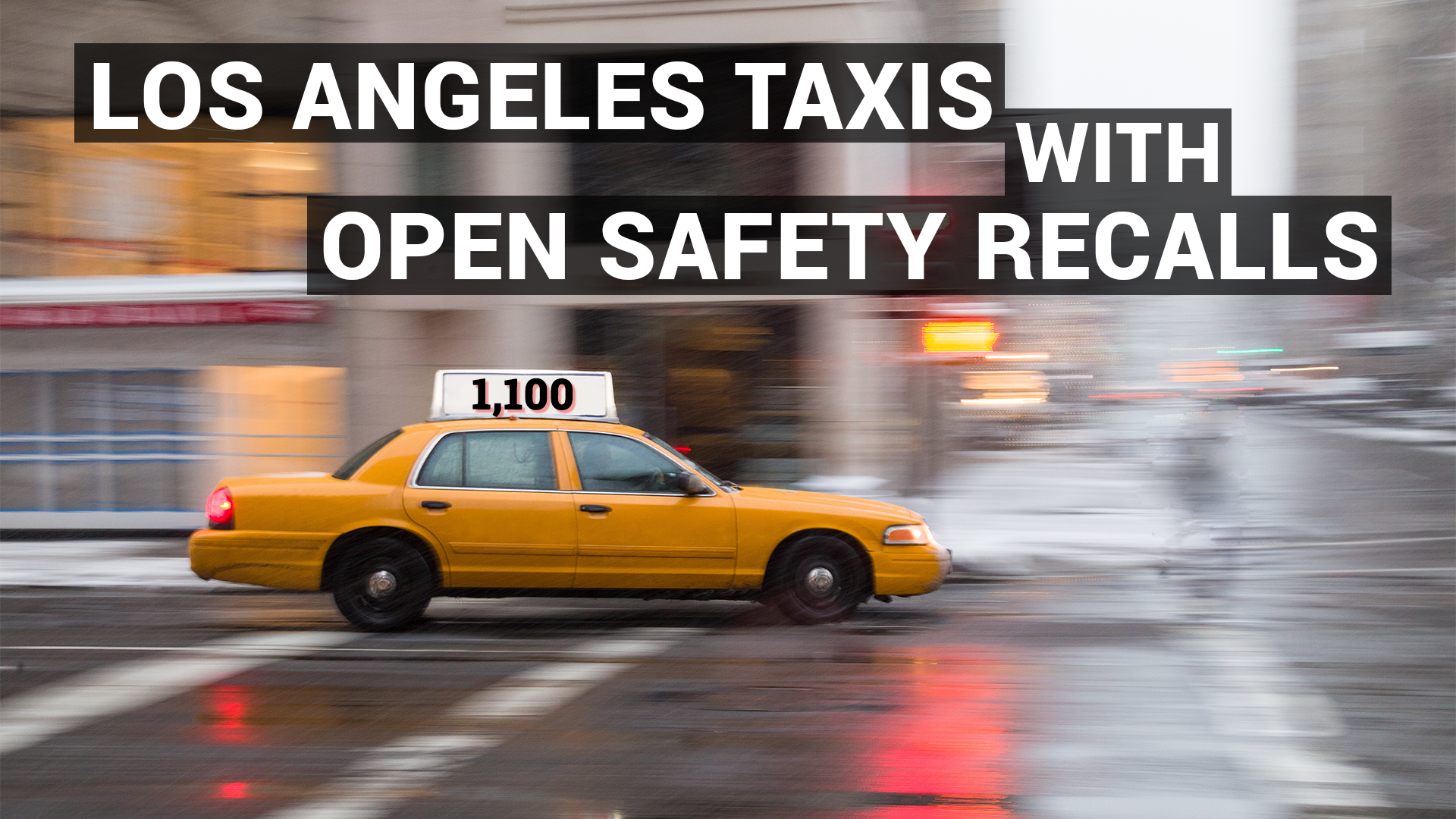 The I-Team cross-referenced 2,300 Los Angeles taxis with a federal government database of open safety recalls. Eleven-hundred of them had open safety recalls for issues like a window power switch that can overheat, or faulty wiring on a sliding door--both problems that could cause a fire. Other taxis had open recalls for faulty wiring in a steering wheel that could cause the airbags to accidentally deploy. The I-Team found some of these recalls are six years old.
The city says it conducts a "34-point inspection" before a taxi hits the road, and conducts a follow up inspection every year after. So why are these recalls on the road?
"We don't have any way to check recalls," said Eric Cavarlez, an Inspector with the City's Department of Transportation.
But that's not true. The I-Team showed Cavarlez the process is actually very easy using a free app, anybody can download.
The I-Team asked the city if it will make changes and start checking for recalls during its inspections, the city didn't give a firm answer.
"I think we can consider it. I think we probably want to take a look and see if we have an epidemic of open recalls," said Jarvis Murray, the Taxi Administrator for the Los Angeles Department of Transportation.
Some people, like passenger Aundrea Wilson, believe eleven hundred safety recalls is an epidemic. "Hopefully they'll fix them because nobody wants to be unsafe. So now that they're aware, hopefully they'll be responsible," Wilson said.
Uber and Lyft Problems
The I-Team also found open safety recalls on ride share service providers, Lyfts and Uber, vehicles as well. Officials said the City is not required to inspect those cars because it doesn't regulate them. Uber told the I-Team it reminds its drivers every few months to check for safety recalls. Lyft did not respond to our requests to comment on this story.
Is Your Car Affected?
[[482103762, C]]
According to Carfax, California has more than seven million vehicles on the road with open recalls, the most in the nation, and many drivers may not know.
The I-Team fanned out in Long Beach and used a free app from Carfax to warn drivers that their cars have potentially dangerous safety issues. The app uses a vehicle's license plate number or vehicle identification number to scan for open recalls. Most drivers were completely surprised their cars were affected.
The I-Team's Lolita Lopez spoke to Robin and Leonard Shapiro whose 2015 Mercedes popped up with an open recall. "It says that the recall could cause an inadvertent airbag deployment and that could be a risk of injury to a driver and result in a crash," Lopez told them.
"Eww," replied Robin Shapiro. "I think it's important to know."
"There's only one reason for a safety recall and that's that your car is unsafe. It's defective, it's risky, something horrible could go wrong--so it's very important to get it fixed," said Rosemary Shahan founded Consumers for Auto Reliability and Safety.
Shahan says auto manufacturers are required by federal law to notify owners about open recalls. However, some experts say drivers frequently miss those warnings, or never receive them at all.
The I-Team told driver Deysi Gallardo that the app showed her 2010 Toyota has two open recalls; one of the recalls could potentially lead to a fire.
Gallardo said she did not receive a notice in the mail. "No, because I didn't get it from the dealer, but from somebody else, " she explained.
"A lot of times manufacturers don't notify consumers especially if they're the subsequent owner of the car, if they're not the first owner. So if they don't have your mailing address, then you may not get the recall notice. So it's a good idea to check the recall status yourself with an app," Shahan said.
Editor's Note: Lyft issued the following statement after the story was broadcast.
"Lyft requires a safety inspection of all drivers' vehicles before they are permitted to operate on our platform. Drivers in California must have their vehicles inspected by a licensed mechanic to ensure that their vehicles meet industry safety standards and all applicable state department of motor vehicle requirements. Further, all Lyft vehicles must be insured and registered consistent with state laws."