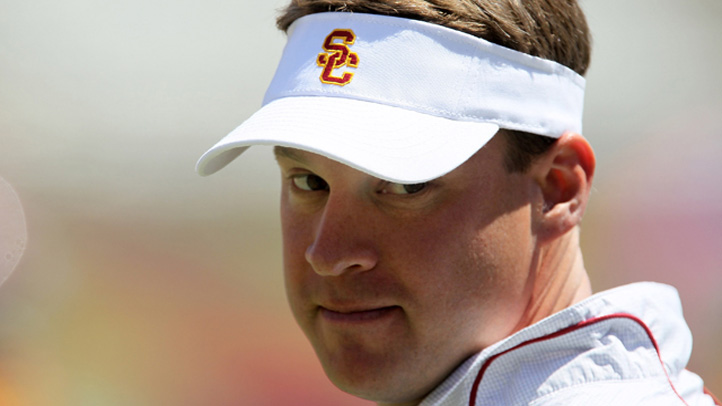 USC Athletic Director Pat Haden went on the offensive Thursday night and answered a question he expects to hear a lot as the Trojans prepare for the upcoming football season.

In a "State of Troy" video posted by USC Athletics one day before Pac-12 Media Day, Haden expressed confidence in coach Lane Kiffin and optimism about the future of the football program.

"I anticipate the media will ask me if our football coach is on the hot seat this year," Haden, a former Trojan quaterback, said. "Here is my answer, and it will be my answer whenever I'm asked. He is not."

USC is coming of a 7-6 season that ended with five losses in six games. The disappointment included a 38-28 loss to UCLA and a 22-13 defeat to Notre Dame to end the regular season.

USC lost to Georgia Tech 21-7 in the Sun Bowl.

"We all know the second half of last year was disappointing, but I firmly believe we'll bounce back strong this season," Haden said. "I'm behind Lane Kiffin 100 percent. I have great confidence in him. He's a very hard working, detailed oriented coach."

Haden also referred to Kiffin as a "dynamic play caller" and "exceptional recruiter."

The team continues to deal with scholarship limitations handed down by the NCAA soon after Kiffin was hired in 2010. USC will have 70 players on scholarship for the 2012-2013 season, compared to the more than 80 scholarship players on its opponents' rosters.

"We're still working through very difficult challenges imposed on us," Haden said. "These sanctions were not handed down to help us win games."

The Trojans open the season Aug. 29 at Hawaii. The home opener is scheduled for Sept. 7 against Washington State.
At Friday morning's media day session, Kiffin said USC will need immediate production from the team's young players.
"We've got to maximize every player on our roster," said Kiffin "We have a lot of really talented players coming into our program. We have high expectations for those guys, and we're going to need them to contribute immediately."
Local
Local news from across Southern California
More Southern California Stories: