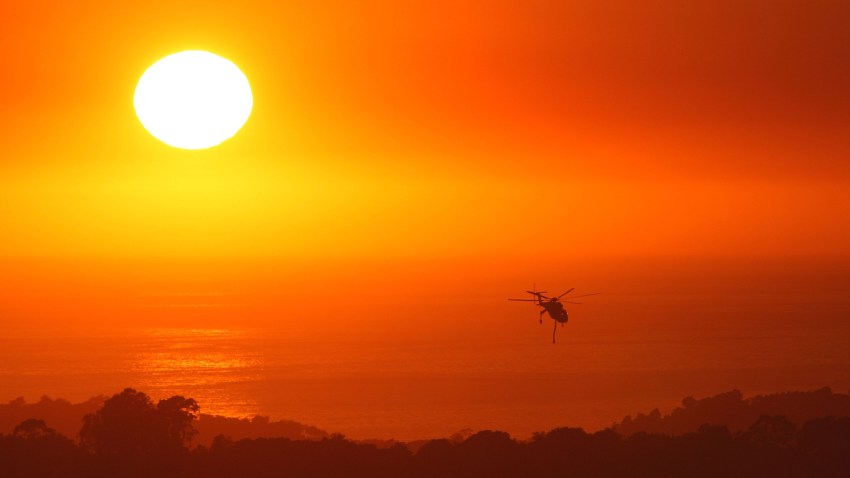 A red flag warning signifying a high risk of wildfire remained in effect in much of the Southland Tuesday because of strong Santa Ana winds combined with low humidity levels amid record high temperatures.
The warning was scheduled to be in force until 6 p.m. in coastal, mountain, forest and valley areas of Los Angeles and Ventura counties.
In issuing the warning, the National Weather Service forecast winds gusts in mountain areas of up to 65 mph, with humidity levels in the teens or even single digits.

In Los Angeles County, the warning was in effect in mountain areas, including the Angeles National Forest and the Santa Monica Mountains Recreational Area; so-called coastal areas, including the Hollywood Hills and downtown Los Angeles; and the San Fernando and Santa Clarita valleys.
Local
Local news from across Southern California
The unseasonably warm weather produced record temperatures in several communities Monday, and more of the same was expected on Tuesday.
The NWS forecast highs today of 67 in Lancaster; 68 in Palmdale and on Mount Wilson; 75 in Mount Wilson; 82 in Woodland Hills; 83 in Newport Beach; 84 in Pasadena and Avalon; 85 in Burbank; 86 at LAX and in Anaheim; 87 in San Gabriel; 88 in downtown L.A.; and 89 in Long Beach.
According to the Weather Service, temperature records were logged in five areas of Los Angeles County Monday, including:
88 degrees in downtown Los Angeles, breaking the old record of 87 degrees set in 1983
87 degrees in Long Beach, breaking the old record of 84 degrees set in 1996
87 degrees in Burbank, shattering the 85-degree record set in 1948
88 degrees in San Gabriel, breaking the old record of 87 degrees set in 1996
86 degrees at UCLA, breaking the old record of 85 degrees set in 1996
In Ventura County, it was 86 degrees in the city of Oxnard, breaking the old record of 85 degrees set in 1955.