The grieving daughter of a slain Riverside couple spoke publicly for the first time Wednesday as investigators continue to piece together the tragic chain of events set in motion by a Virginia lawman who investigators said drove across the country to meet a teenage girl he met online in a catfishing scheme.
Three bodies found Friday in the burning home were identified as the teen's grandparents and mother -- Mark Winek, 69, his wife, Sharie Winek, 65, and their 38-year-old daughter, Brooke Winek. Police said the causes of their deaths remain under investigation, but that they were not killed in the fire.
The couple's daughter Mychelle Blandin spoke Wednesday at an emotional news conference with investigators about the last time she saw her parents and sister alive. Blandin said she was with family members the day before for Thanksgiving, when there was a family debate over whether the brownies should be frosted with sprinkles or served plain.
"It seemed silly at the time, but that's a conversation and a debate that will forever resonate in my heart," said Blandin. "That would be the last time that my husband and I would see my parents and my sister again."
Her family members' deaths stemmed from what authorities called a catfishing scheme carried out by a Virginia law enforcement officer that targeted the Wineks' 15-year-old grand-daughter.
Austin Lee Edwards, 28, likely set the house fire Friday before leaving with the teen girl, the Riverside Police Department said. Edwards died in a shootout in the desert town of Kelso.
The 15-year-old girl with him was not injured.
Until last month, Edwards was a Virginia State Police trooper, and was recently hired as a sheriff's deputy in that state, a spokesperson said.
"In this instance, catfishing led to the deaths of the three most important people in my life — my mom, my dad and my sister," Blandin said. "This horrific event started with an inappropriate online romance between a predator and a child. We have some solace that this person will never harm anyone again, especially a minor.
"This was an adult who traveled across the country to kidnap a 15-year-old girl. He took an oath to protect and yet he failed to do so. He preyed on the most vulnerable."
The deadly series of events unfolded when the North Chesterfield, Virginia resident met the girl online and obtained her personal information by deceiving her with a false identity, known as "catfishing," Riverside Police said. Authorities said it appears Edwards posed as a teenager when he communicated with the girl online. The exchanges might have included text messages and phone calls, police said.
Riverside police received a call for a welfare check Friday morning about a man and woman involved in a disturbance near a car parked not far from a burning home. Investigators later determined the two people were Edwards and the teenager.
Authorities said it appears Edwards parked his vehicle in a neighbor's driveway, walked to the home and killed the family members before leaving with the girl.
It was day after Blandin's Thanksgiving gathering with family. She was shopping for Christmas lights when she received a phone call from her parents' long-time neighbors. Her parents' house, where she grew up with her sister, was on fire, the neighbor said.
"I couldn't get there fast enough," Blandin said. "We left everything in the shopping cart at the store."
She learned about the deaths of her parents and sister when they arrived at the house. Her niece was missing, but Blandin said a tip from a neighbor to authorities might have prevented further tragedy.
"The loving neighbors on my parents' street saw an unfamiliar car, and they immediately reported it to authorities," Blandin said. "Making that call from that neighbor saved my niece's life. That neighbor is a hero in our eyes."
Authorities have said they are still trying to determine Edwards' intentions after leaving with the teen.
After gathering information at the scene of the burning home, Riverside authorities distributed a description of Edwards' vehicle to law enforcement agencies and several hours later, police located the car with Edwards and the teenager in a remote unincorporated area of San Bernardino County. Edwards fired gunshots and was killed by deputies returning fire, police said.
The teenager was unharmed and taken into protective custody by the Riverside County Department of Public Social Services, Riverside Police said. The girl has been speaking with investigators, Riverside Police spokesman Ryan Railsback said.
"This will be a long lasting tragedy in her life," he said. "How long did this relationship last? When did it start? Their intentions. What she knew, what she didn't know. We're still trying to figure out was she coerced or forced to leave with him. She's a victim because as any teenager or child, you're vulnerable. This grown man who's in law enforcement took advantage of that."
Edwards appears to be the only person involved in the killings and setting of the fire, police said, adding that they are looking into whether there are more potential victims.
Edwards was hired by Virginia State Police and entered the academy July 6, 2021. according to the agency. He graduated Jan. 21 as a trooper and was assigned to Henrico County before resigning in October. He began employment as a deputy sheriff's in Washington County, Virginia a few days before the slayings, Railsback said.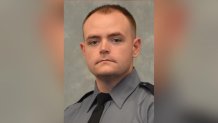 In a statement, the Washington County Sheriff's Office, said past employers and the Virginia State Police were contacted during the hiring process, but no employers "disclosed any troubles, reprimands, or internal investigations pertaining to Edwards."
He was hired with the county sheriff's office on Nov. 16.
"It is shocking and sad to the entire law enforcement community that such an evil and wicked person could infiltrate law enforcement while concealing his true identity as a computer predator and murderer," said Washington County Sheriff Blake Andis. "Our thoughts and prayers are with the Winek family, their friends, officers, and all of those affected by this heinous crime."
About the Victims
Blandin pleaded with parents to speak with their children about online predators.
"In this tragic moment of our family, of our grief, we hope some good will come from this," Blandin said. "Parents, please know your child's online activity. Ask questions about what they're doing and whom they're talking to.
"When you are talking to your children about the dangers of their online actions, please use us as a reference. Tell our story to help your parenting, not out of fear but out of example of something that did happen."
Blandin said her sister was a loving single mother to two teen daughters. She enjoyed watching their school activities, including Color Guard and choir concerts. She also collected Starbuck's tumblers, never missing a release day.
"I could get a text at 4 a.m. from her wondering why I wasn't waiting in line with her," Blandin said.
Her father was a soft spoken and humble man who went out of his way to help others, she said. He was a high school athletics coach at several Riverside County schools, including Arlington High School.
"He was a man with a big and caring heart, who unselfishly gave to his student-athletes," Blandin said.
Her mother was a grandmother to four grandchildren who liked baking and always looked forward to making Christmas cookies.
"That is a tradition that I will carry on," Blandin said.