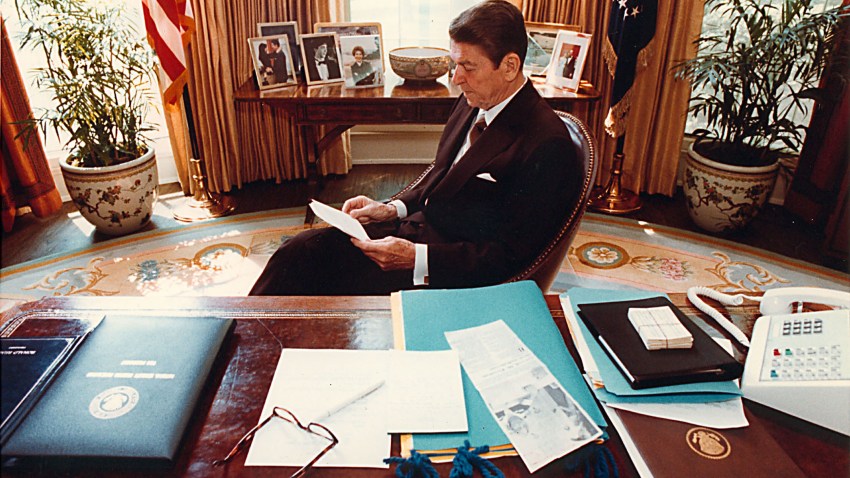 Just in time to celebrate his 100th birthday, there will be a rebirth of the Ronald Reagan story.
"His father was an alcoholic. His mother was a churchgoer," according to Melissa Giller, Reagan Library Dir. Of Communications.
No longer will all exhibits be under glass. Visitors can actually insert themselves into scenes from some of Ronald Reagan's most famous movies.
Local
Local news from across Southern California
They can also test themselves on state dinner etiquette.
In the Reaganomics room, people can pick some stock and see how it would have done at the end of his presidency.
The library even loans out Apple iPods.
"Any video you take will be e-mailed to your address," states Melissa Giller, Reagan Library Dir. Of Communications.
A high tech effort at chronicling the Great Communicator.
There are cards on display which were used for a speech in Berlin, which helped bring down the iron curtain.
"It really teaches what the cold war was all about, and communism, and why Ronald Reagan did what he did," states Melissa Giller, Reagan Library Dir. Of Communications.
The actual nuclear test ban treaty, signed with the Soviet Union is on display, on loan from the State Department.
When Ronald Reagan was diagnosed with having Alzheimers, he wrote a letter to the American people, which was eventually read by his wife, Nancy.
But he recorded a rendition of it as well, which now can be heard at the library.
"I now begin the journey that will lead me into the sunset of my life," said President Ronald Reagan.
"It's about the history of 100 years of a very special life. The American experience, as seen through President Reagan's eyes," according to John Heubusch, Director, Reagan Pres. Foundation.
Not a new wing, a new narrative of a man, his time and his influence on history and the world.
The Reagan Honeymoon Package
For the Reagan lovers who have a sweet spot for romance, in addition to two passes to the library, a hotel in Riverside is offering a Reagan Honeymoon package.
The Mission Inn Hotel & Spa in Riverside is inviting guests to spend the night in the same suite Ronald Reagan and Nancy Davis stayed in during their honeymoon.