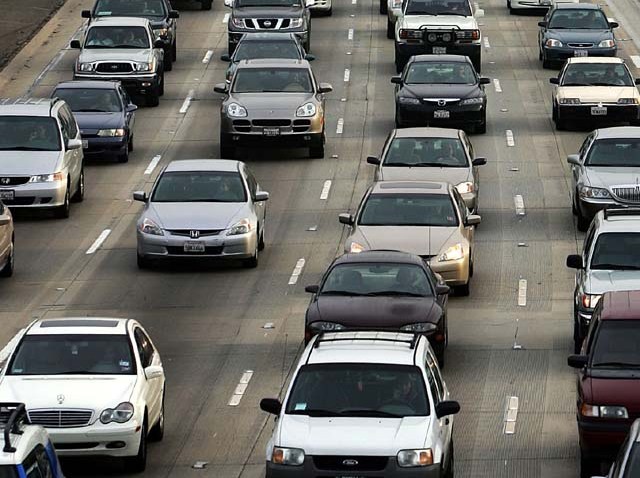 Commuters who want to use carpool lanes on portions of the San Bernardino (10) and Harbor (110) freeways will be able to pay between 25 cents and $1.40 per mile to do so under a program that received final approval Thursday from the Metropolitan Transportation Authority Board of Directors.
The Congestion Reduction Demonstration Project, which will begin in December 2010, will convert existing carpool lanes on parts of the freeways to toll lanes. Carpoolers, vanpoolers and transit users would not be charged a toll, but solo drivers would be allowed to use the lanes if they pay a toll.
Metro officials said the goal of the program -- which is being funded through a $210 million federal grant -- is to ensure that motorists using the toll lanes can travel at 45-50 mph. The areas chosen for the yearlong project were picked because they are in congested areas where it is nearly impossible to build more freeways due to a lack of space or funding.
Local
Local news from across Southern California
Some of the federal funding for the project will be used to add buses and increase vanpools along the corridors.
The toll lanes will be put in place on the 10 Freeway roughly between downtown Los Angeles and the San Gabriel River (605) Freeway, and on the 110 Freeway from just south of downtown to roughly the Riverside (91) Freeway.
Metro officials said the toll will range from 25 cents to $1.40 a mile for solo drivers, depending on traffic levels. When congestion is heavier and traffic in the toll lane is slowing, the rate will be higher to discourage solo drivers from using the lanes.
Copyright Archive Sources